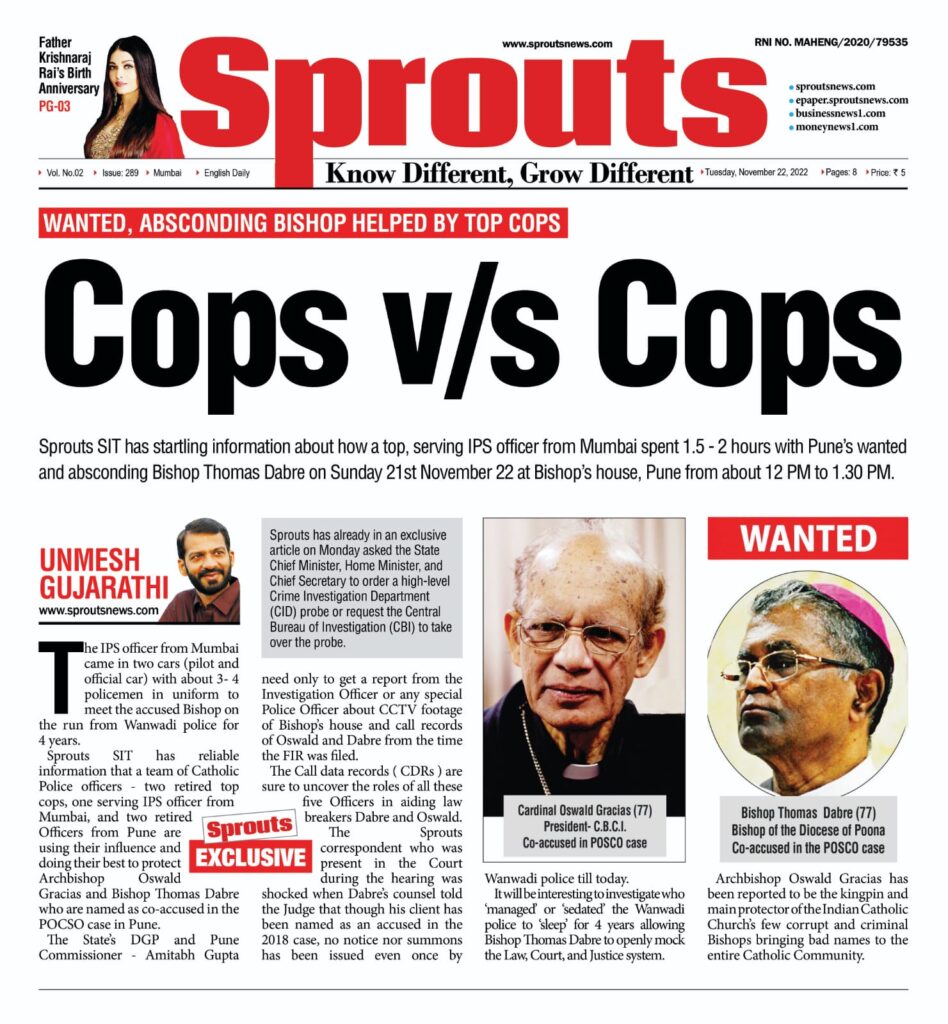 Unmesh Gujarathi
Sprouts Follow up
Sprouts SIT has startling information about how a top, serving IPS officer from Mumbai spent 1.5 – 2 hours with Pune's wanted and absconding Bishop Thomas Dabre on Sunday 21st November 22 at Bishop's house, Pune from about 12 PM to 1.30 PM.
The IPS officer from Mumbai came in two cars ( pilot and official car ) with about 3- 4 policemen in uniform to meet the accused Bishop on the run from Wanwadi police for 4 years.
Sprouts SIT has reliable information that a team of Catholic Police officers – two retired top cops, one serving IPS officer from Mumbai, and two retired Officers from Pune are using their influence and doing their best to protect Archbishop Oswald Gracias and Bishop Thomas Dabre who are named as co-accused in the POCSO case in Pune.
The State's DGP and Pune Commissioner – Amitabh Gupta need only to get a report from the Investigation Officer or any special Police Officer about CCTV footage of Bishop's house and call records of Oswald and Dabre from the time the FIR was filed.
The Call data records ( CDRs ) are sure to uncover the roles of all these five Officers in aiding law breakers Dabre and Oswald.
The Sprouts correspondent who was present in the Court during the hearing was shocked when Dabre's counsel told the Judge that though his client has been named as an accused in the 2018 case, no notice nor summons has been issued even once by Wanwadi police till today.
It will be interesting to investigate who 'managed' or 'sedated' the Wanwadi police to 'sleep' for 4 years allowing Bishop Thomas Dabre to openly mock the Law, Court, and Justice system.
Sprouts has already in an exclusive article on Monday asked the State Chief Minister, Home Minister, and Chief Secretary to order a high-level Crime Investigation Department (CID) probe or request the Central Bureau of Investigation (CBI) to take over the probe.
Archbishop Oswald Gracias has been reported to be the kingpin and main protector of the Indian Catholic Church's few corrupt and criminal Bishops bringing bad names to the entire Catholic Community.
Read more:
Pune Bishop Thomas Dabre wanted as accused for last 4 years
shorturl.at/bpDE6
पुण्यातील बिशपची संत तुकारामांवरील पीएचडी बोगस
Bishop obtains bogus Ph.D. based on Sant Tukaram
shorturl.at/uGHRX
Bishop violates law in presence of Cardinal Oswald
Gracias and Nuncio – Leopoldo Girelli
https://bit.ly/3UQApt9
'Ungracious' alleged Homo-sexual Cardinal Gracias's Disgracious act
https://bit.ly/3sJazvh
Is Father Vincent a victim of the gay gang?
फादर व्हिन्सेंट हा समलैंगिक गँगचा बळी आहे काय ?
https://urlzs.com/DwEsV
पुण्यातील सेक्स स्कॅण्डलमध्ये बिशपचा रोल उघडकीस
Bishop Dabre's dubious role in Vincent sex scam nailed by his own documents
shorturl.at/bjkno
Sex starved demon in Father Vincent Pereira
http://shorturl.at/INY24
लिंगपिसाट फादर पुन्हा मोकाट
Sextortionist Father (priest) again scot-free
https://bit.ly/3Fbm2uR
---