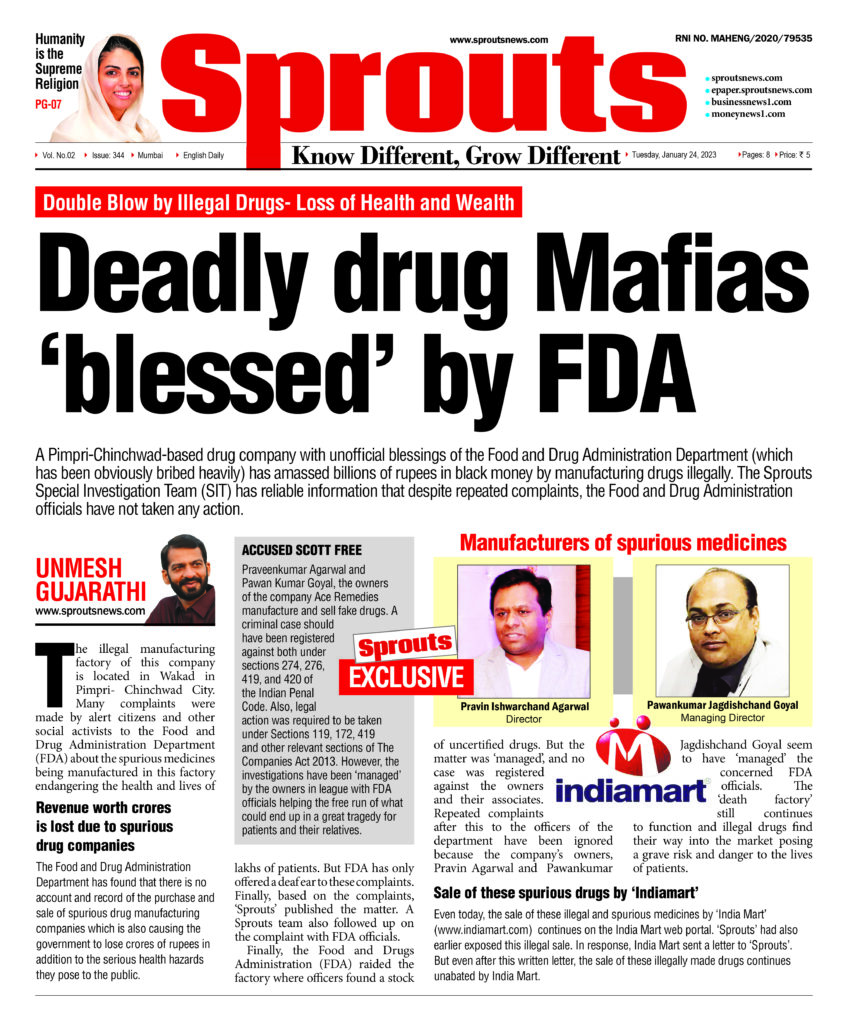 Double Blow by Illegal Drugs- Loss of Health and Wealth
Unmesh Gujarathi
Sprouts Exclusive
A Pimpri-Chinchwad-based drug company with unofficial blessings of the Food and Drug Administration Department ( which has been obviously bribed heavily ) has amassed billions of rupees in black money by manufacturing drugs illegally. The Sprouts Special Investigation Team ( SIT ) has reliable information that despite repeated complaints, the Food and Drug Administration officials have not taken any action.
The illegal manufacturing factory of this company is located in Wakad in Pimpri- Chinchwad City. Many complaints were made by alert citizens and other social activists to the Food and Drug Administration Department ( FDA ) about the spurious medicines being manufactured in this factory endangering the health and lives of lakhs of patients. But the FDA has only offered a deaf ear to these complaints. Finally, based on the complaints, 'Sprouts' published the matter. A Sprouts team also followed up on the complaint with FDA officials.
Finally, the Food and Drugs Administration (FDA) raided the factory where officers found a stock of uncertified drugs. But the matter was 'managed', and no case was registered against the owners and their associates. Repeated complaints after this to the officers of the department have been ignored because the company's owners, Pravin Agarwal and Pawankumar Jagdishchand Goyal seem to have 'managed' the concerned FDA officials. The 'death factory' still continues to function and illegal drugs find their way into the market posing a grave risk and danger to the lives of patients.
Accused Scott free
Praveen Agarwal and Pawankumar Goyal, the owners of the company Ace Remedies manufacture and sell fake drugs. A criminal case should have been registered against both under sections 274, 276, 419, and 420 of the Indian Penal Code. Also, legal action was required to be taken under Sections 119, 172, 419 and other relevant sections of The Companies Act 2013. However, the investigations have been 'managed' by the owners in league with FDA officials helping the free run of what could end up in a great tragedy for patients and their relatives.
Sale of these spurious drugs by 'Indiamart'
Even today, the sale of these illegal and spurious medicines by 'India Mart' (www.indiamart.com) continues on the India Mart web portal. 'Sprouts' had also earlier exposed this illegal sale. In response, India Mart sent a letter to 'Sprouts'. But even after this written letter, the sale of these illegally made drugs continues unabated by India Mart.
Revenue worth crores is lost due to spurious drug companies
The Food and Drug Administration Department has found that there is no account and record of the purchase and sale of spurious drug manufacturing companies which is also causing the government to lose crores of rupees in addition to the serious health hazards they pose to the public