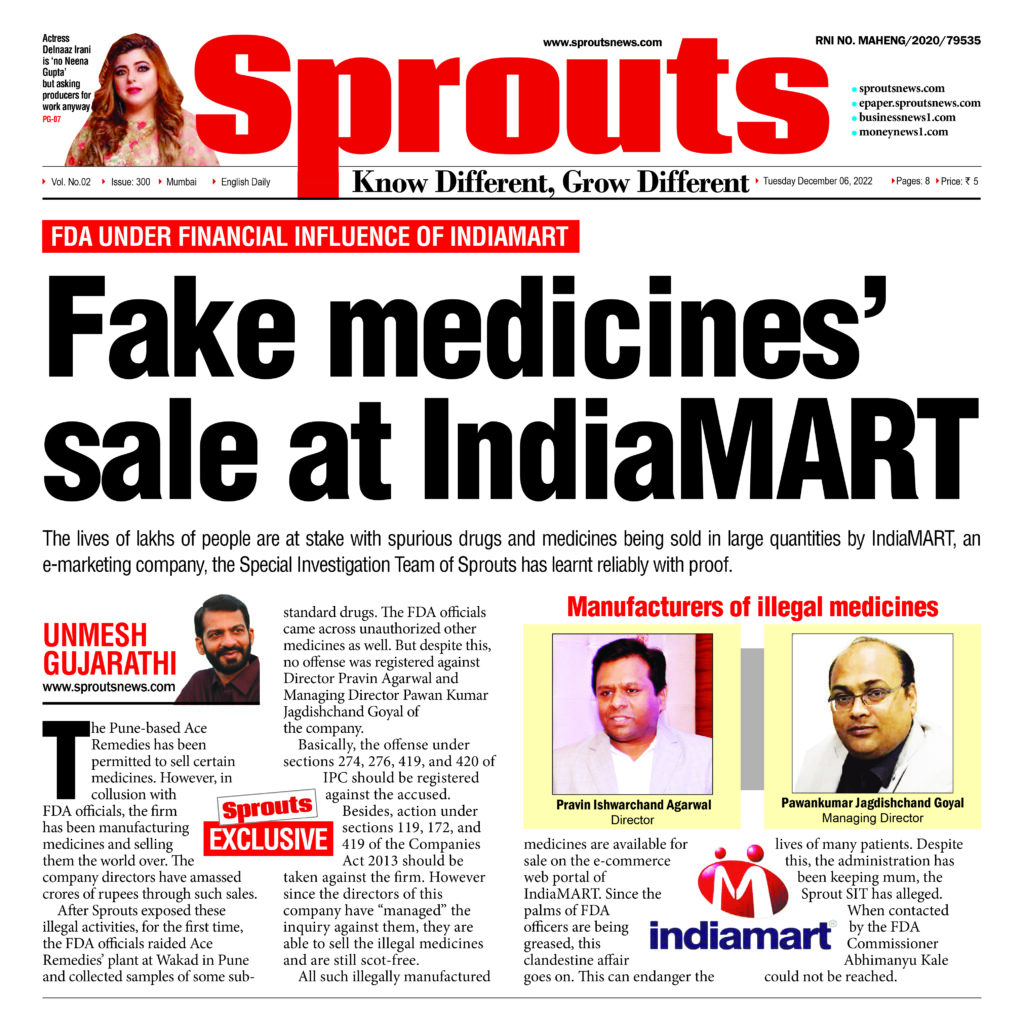 FDA under financial influence of IndiaMART
Unmesh Gujarathi
sproutsnews.com
The lives of lakhs of people are at stake with spurious drugs and medicines being sold in large quantities by IndiaMART, an e-marketing company, the Special Investigation Team of Sprouts has learnt reliably with proof.
The Pune-based Ace Remedies has been permitted to sell certain medicines. However, in collusion with FDA officials, the firm has been manufacturing medicines and selling them the world over. The company directors have amassed crores of rupees through such sales.
After Sprouts exposed these illegal activities, for the first time, the FDA officials raided Ace Remedies' plant at Wakad in Pune and collected samples of some sub-standard drugs. The FDA officials came across unauthorized other medicines as well. But despite this, no offense was registered against Director Pravin Agarwal and Managing Director Pawankumar Goyal of the company.
Basically, the offense under sections 274, 276, 419, and 420 of IPC should be registered against the accused. Besides, action under sections 119, 172, and 419 of the Companies Act 2013 should be taken against the firm. However since the directors of this company have "managed" the inquiry against them, they are able to sell the illegal medicines and are still scot-free.
All such illegally manufactured medicines are available for sale on the e-commerce web portal of IndiaMART. Since the palms of FDA officers are being greased, this clandestine affair goes on. This can endanger the lives of many patients. Despite this, the administration has been keeping mum, the Sprout SIT has alleged. When contacted by the FDA Commissioner Abhimanyu Kale could not be reached.
---