A conspiracy to privatise Ordnance factories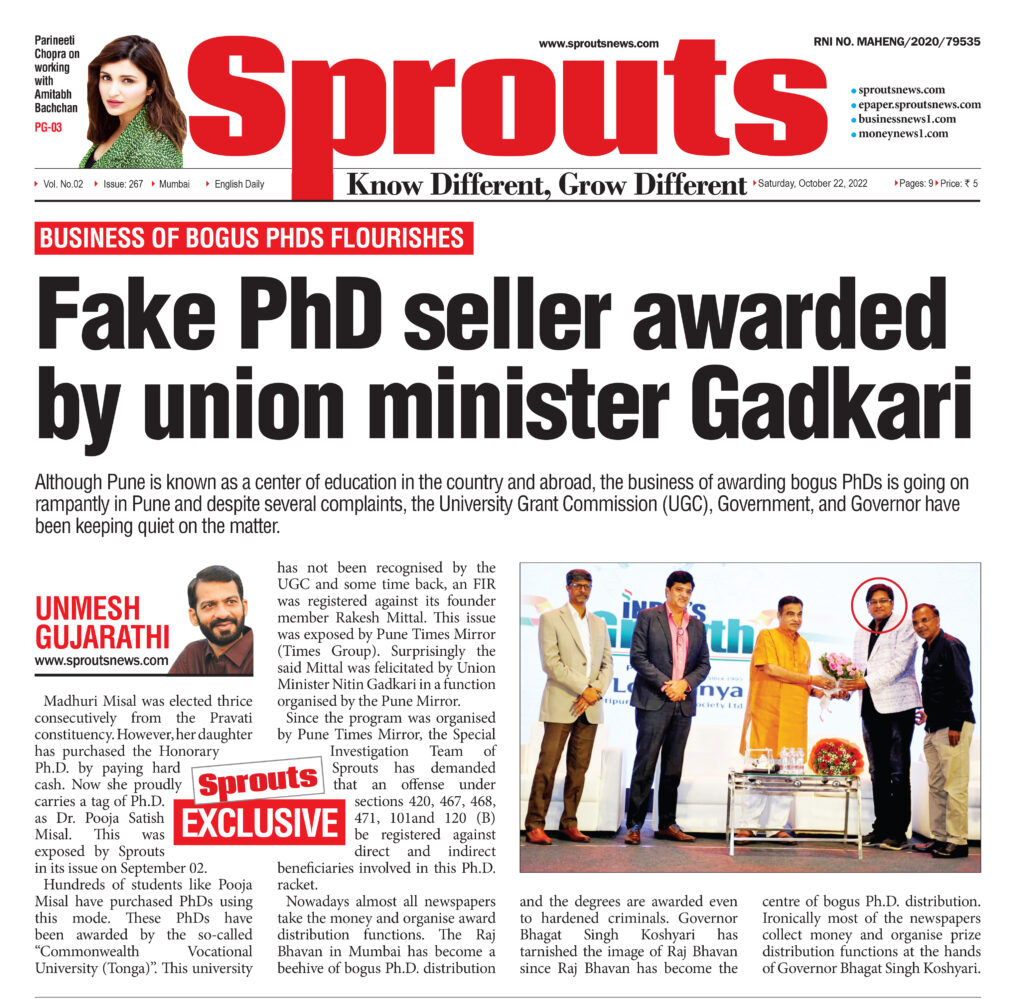 Unmesh Gujarathi
Sprouts Exclusive
Although Pune is known as a center of education in the country and abroad, the business of awarding bogus PhDs is going on rampantly in Pune and despite several complaints, the University Grant Commission (UGC), Government, and Governor have been keeping quiet on the matter.
Madhuri Misal was elected thrice consecutively from the Pravati constituency. However, her daughter has purchased the Honorary Ph.D. by paying hard cash. Now she proudly carries a tag of Ph.D. as Dr. Pooja Satish Misal. This was exposed by Sprouts in its issue on September 02.
Hundreds of students like Pooja Misal have purchased PhDs using this mode. These PhDs have been awarded by the so-called "Commonwealth Vocational University (Tonga)". This university has not been recognised by the UGC and some time back, an FIR was registered against its founder member Rakesh Mittal. This issue was exposed by Pune Times Mirror (Times Group). Surprisingly the said Mittal was felicitated by Union Minister Nitin Gadkari in a function organised by the Pune Mirror.
Since the program was organised by Pune Times Mirror, the Special Investigation Team of Sprouts has demanded that an offense under sections 420, 467, 468, 471, 101and 120 (B) be registered against direct and indirect beneficiaries involved in this Ph.D. racket.
Nowadays almost all newspapers take the money and organise award distribution functions. The Raj Bhavan in Mumbai has become a beehive of bogus Ph.D. distribution and the degrees are awarded even to hardened criminals. Governor Bhagat Singh Koshyari has tarnished the image of Raj Bhavan since Raj Bhavan has become the centre of bogus Ph.D. distribution. Ironically most of the newspapers collect money and organise prize distribution functions at the hands of Governor Bhagat Singh Koshyari.
A list of fake universities awarding bogus Ph.D. degrees has been given here for the information of our valuable readers:
► The Open International
University of complementary medicine, Sri Lanka
► University of America Hawaii and Inox International University
► Commonwealth Vocational University, Tonga
► University of South, America,
► Southwestern American University
► The American University, USA,
► Zorashtriyan University,
► Sorbonne University, France,
► Mahatma Gandhi Global peace Foundation (NGO)
► Empower Social and Education Trust (NGO).
► Nelson Mandela Nobel Award Academy – NGO
► Diplomatic Mission Global Peace – NGO
► Manav Bharti University (MBU) Himachal Pradesh
► Manav Bharti University, Solan
► Vinayaka Missions Singhania.
► Chhatrapati Shahuji Maharaj University from Kanpur
► American Heritage University of Southern California (AHUSC)
► Peace University
► Dadasaheb Phalke Icon Awards Films – NGO
► Trinity World University, UK
► St. Mother Teresa University
► American University of Global Peace
► Jeeva Theological Open University
► World Peace Institute of United Nations
► Global Human Peace University
► Bharat Virtual University for peace and Education
► National global Peace University
► Ballsbridge University
► Shri Dadasaheb Phalke International Award Film Foundation (NGO)
► International Open University of Humanity Health, Science and Peace, USA
► Harshal University
► International Internship University
---