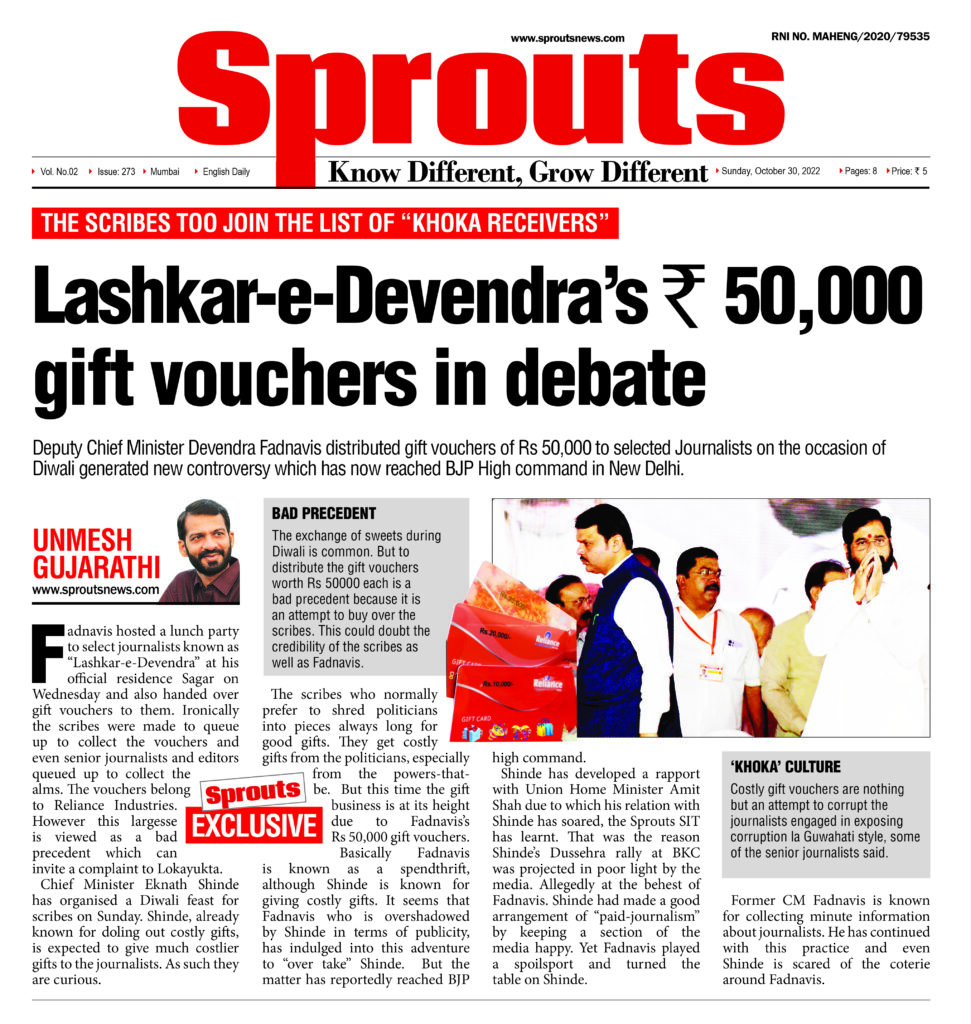 Unmesh Gujarathi
Sprouts News Exclusive
Deputy Chief Minister Devendra Fadnavis distributed gift vouchers of Rs 50,000 to selected Journalists on the occasion of Diwali generated new controversy which has now reached BJP High command in New Delhi.
Fadnavis hosted a lunch party to select journalists known as "Lashkar-e-Devendra" at his official residence Sagar on Wednesday and also handed over gift vouchers to them. Ironically the scribes were made to queue up to collect the vouchers and even senior journalists and editors queued up to collect the alms. The vouchers belong to Reliance Industries. However this largesse is viewed as a bad precedent which can invite a complaint to Lokayukta.
Chief Minister Eknath Shinde has organised a Diwali feast for scribes on Sunday. Shinde, already known for doling out costly gifts, is expected to give much costlier gifts to the journalists. As such they are curious.
The scribes who normally prefer to shred politicians into pieces always long for good gifts. They get costly gifts from the politicians, especially from the powers-that-be. But this time the gift business is at its height due to Fadnavis's Rs 50,000 gift vouchers.
Basically Fadnavis is known as a spendthrift, although Shinde is known for giving costly gifts. It seems that Fadnavis who is overshadowed by Shinde in terms of publicity, has indulged into this adventure to "over take" Shinde. But the matter has reportedly reached BJP high command.
Shinde has developed a rapport with Union Home Minister Amit Shah due to which his relation with Shinde has soared, the Sprouts SIT has learnt. That was the reason Shinde's Dussehra rally at BKC was projected in poor light by the media. Allegedly at the behest of Fadnavis. Shinde had made a good arrangement of "paid-journalism" by keeping a section of the media happy. Yet Fadnavis played a spoilsport and turned the table on Shinde.
Bad precedent
The exchange of sweets during Diwali is common. But to distribute the gift vouchers worth Rs 50000 each is a bad precedent because it is an attempt to buy over the scribes. This could doubt the credibility of the scribes as well as Fadnavis.
'Khoka' culture
Costly gift vouchers are nothing but an attempt to corrupt the journalists engaged in exposing corruption la Guwahati style, some of the senior journalists said.
Former CM Fadnavis is known for collecting minute information about journalists. He has continued with this practice and even Shinde is scared of the coterie around Fadnavis.
Read more:
Journalists equated with dog
'लष्कर- ए- देवेंद्र' आणि दिवाळी
https://bit.ly/3NsOtq9
Lashkar-e-Devendra's Rs. 50,000 gift vouchers in debate
'लष्कर – ए – देवेंद्र'ला मिळालेल्या पन्नास हजार रुपयांच्या गिफ्ट व्हाऊचरचा सर्वत्र बोलबाला
http://shorturl.at/ekpU9
---