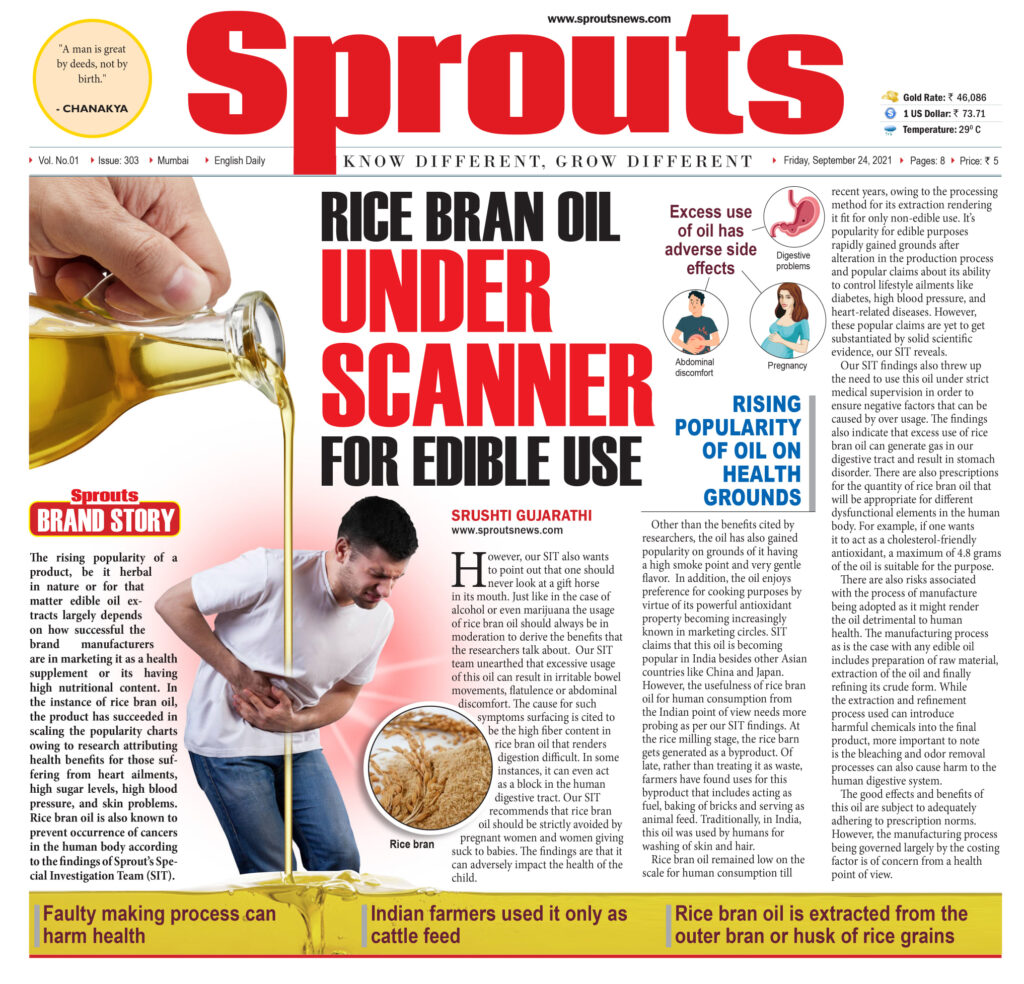 The rising popularity of a product, be it herbal in nature or for that matter edible oil extracts largely depends on how successful the brand manufacturers are in marketing it as a health supplement or its having high nutritional content. In the instance of rice bran oil, the product has succeeded in scaling the popularity charts owing to research attributing health benefits for those suffering from heart ailments, high sugar levels, high blood pressure, and skin problems. Rice bran oil is also known to prevent occurrence of cancers in the human body according to the findings of Sprout's Special Investigation Team (SIT).
However, our SIT also wants to point out that one should never look at a gift horse in its mouth. Just like in the case of alcohol or even marijuana the usage of rice bran oil should always be in moderation to derive the benefits that the researchers talk about. Our SIT team unearthed that excessive usage of this oil can result in irritable bowel movements, flatulence or abdominal discomfort.
The cause for such symptoms surfacing is cited to be the high fiber content in rice bran oil that renders digestion difficult. In some instances, it can even act as a block in the human digestive tract. Our SIT recommends that rice bran oil should be strictly avoided by pregnant women and women giving suck to babies. The findings are that it can adversely impact the health of the child.
Other than the benefits cited by researchers, the oil has also gained popularity on grounds of it having a high smoke point and very gentle flavor. In addition, the oil enjoys preference for cooking purposes by virtue of its powerful antioxidant property becoming increasingly known in marketing circles. Popular web portals claim that this oil is becoming popular in India besides other Asian countries like China and Japan.
However, the usefulness of rice bran oil for human consumption from the Indian point of view needs more probing as per our SIT findings. At the rice milling stage, the rice barn gets generated as a byproduct. Of late, rather than treating it as waste, farmers have found uses for this byproduct that includes acting as fuel, baking of bricks and serving as animal feed. Traditionally, in India, this oil was used by humans for washing of skin and hair.
Rice bran oil remained low on the scale for human consumption till recent years, owing to the processing method for its extraction rendering it fit for only non-edible use. It's popularity for edible purposes rapidly gained grounds after alteration in the production process and popular claims about its ability to control lifestyle ailments like diabetes, high blood pressure, and heart-related diseases. However, these popular claims are yet to get substantiated by solid scientific evidence, our SIT reveals.
Our SIT findings also threw up the need to use this oil under strict medical supervision in order to ensure negative factors that can be caused by over usage. The findings also indicate that excess use of rice bran oil can generate gas in our digestive tract and result in stomach disorder. There are also prescriptions for the quantity of rice bran oil that will be appropriate for different dysfunctional elements in the human body. For example, if one wants it to act as a cholesterol-friendly antioxidant, a maximum of 4.8 grams of the oil is suitable for the purpose.
There are also risks associated with the process of manufacture being adopted as it might render the oil detrimental to human health. The manufacturing process as is the case with any edible oil includes preparation of raw material, extraction of the oil and finally refining its crude form. While the extraction and refinement process used can introduce harmful chemicals into the final product, more important to note is the bleaching and odor removal processes can also cause harm to the human digestive system.
The good effects and benefits of this oil are subject to adequately adhering to prescription norms. However, the manufacturing process being governed largely by the costing factor is of concern from a health point of view.
---