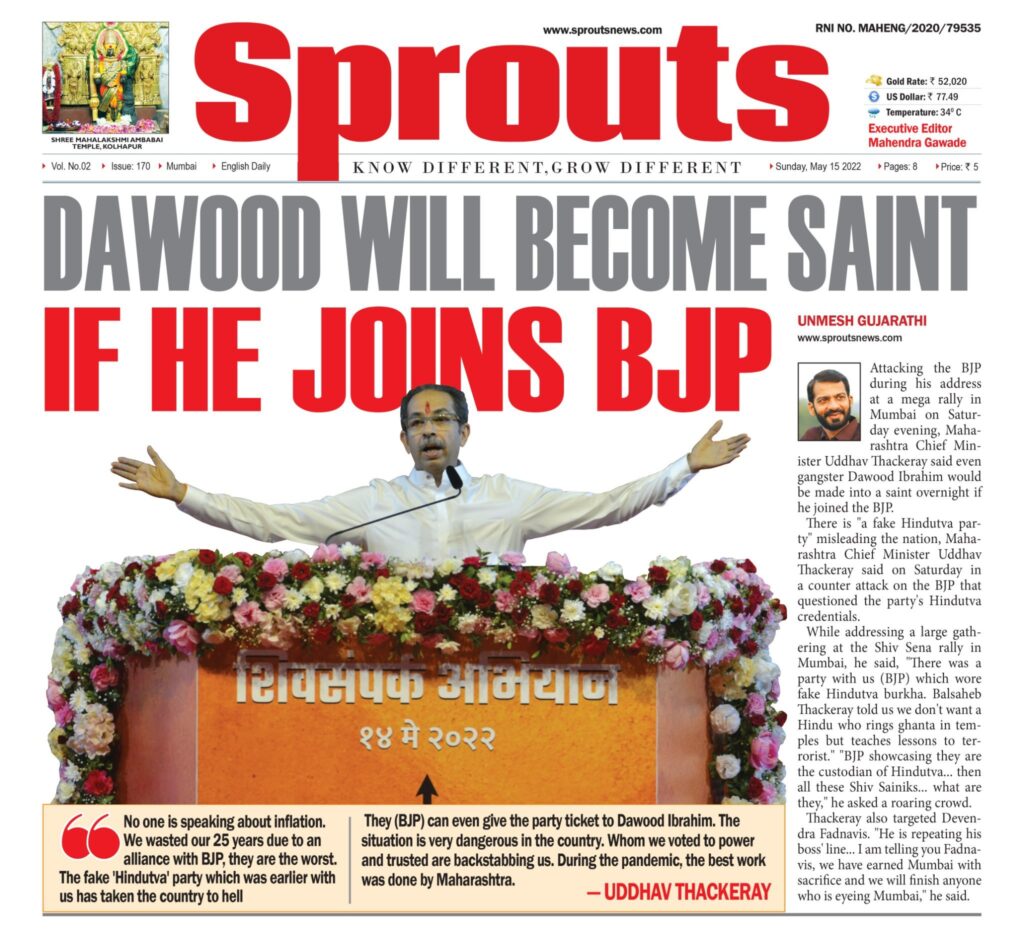 Attacking the BJP during his address at a mega rally in Mumbai on Saturday evening, Maharashtra Chief Minister Uddhav Thackeray said even gangster Dawood Ibrahim would be made into a saint overnight if he joined the BJP.
Addressing a rally in Mumbai, the chief minister said,"Our 'Hindutva' is 'Gadadhari'. Rahul Bhat was killed by terrorists at Tehsil's office in J&K, now what will you (BJP) do? Will you read Hanuman Chalisa there"?
Calling the BJP a fake Hindutva party, Thackeray continued his attack on the saffron party. "No one is speaking about inflation. We wasted our 25 years due to an alliance with BJP, they are the worst. The fake 'Hindutva' party which was earlier with us has taken the country to hell".
Uddhav Thackeray's attack on the BJP during his speech at a mega rally on Saturday evening was not limited to the Dawood Ibrahim comment. He also attacked the party over inflation in the country.
He said, "Modi ji has given ration but shall we eat it raw? How to cook when cylinder rates are skyrocketing? No one is talking about inflation. Look at what is happening in Sri Lanka and take a lesson from there."
He added, "Atal Bihari Vajpayee once went to Parliament in a bullock cart because fuel rate was hiked by seven paise. Look at the fuel rates now. BJP is not the same as it was during Atal Bihari Vajpayee's time."
"Rahul Bhat (Kashmiri Pandit) was killed in a government office. Extremists came and killed him. Will you read the Hanuman Chalisa there?" asked the Chief Minister.
The Chief Minister also took head on the BJP criticism for going with a party, the Congress, that is its ideological opposite.
"They say we went with Congress. We went openly. What about your morning swearing in? Yes, we went with NCP. Had they been with you, you would be singing praises of people like Nawab Malik," said the Chief Minister.
Nawab Malik, NCP leader and minister in the Maharashtra government, was arrested on February 23 by the Enforcement Directorate in a money-laundering probe linked to the activities of fugitive gangster Dawood Ibrahim and his aides.
The "bogus Hindutva BJP" formed an alliance with Mehbooba Mufti, the Chief Minister, to counter attack.
"If Dawood (Ibrahim) says I'll join the BJP, then he can also become a minister. Here they tell people, see how the Enforcement Directorate (ED) is going after people in Maharashtra… Tomorrow they will make Dawood also a minister and they'll say oh it's not such a big deal," said the Sena leader.
The Sena Chief also hit back at his cousin Raj Thackeray, who has been attacking him over loudspeakers-on-mosques issue.
"Sanjay Dutt started seeing Gandhi and started doing Gandhigiri, today there is a fellow in Maharashtra who sees Balasaheb and thinks he is Balasaheb by wearing a shawl," said Uddhav Thackeray.
"But the end of the film is important. He later realises there is a chemical locha (imbalance) in his brain. This is the result of chemical locha," he added.
---