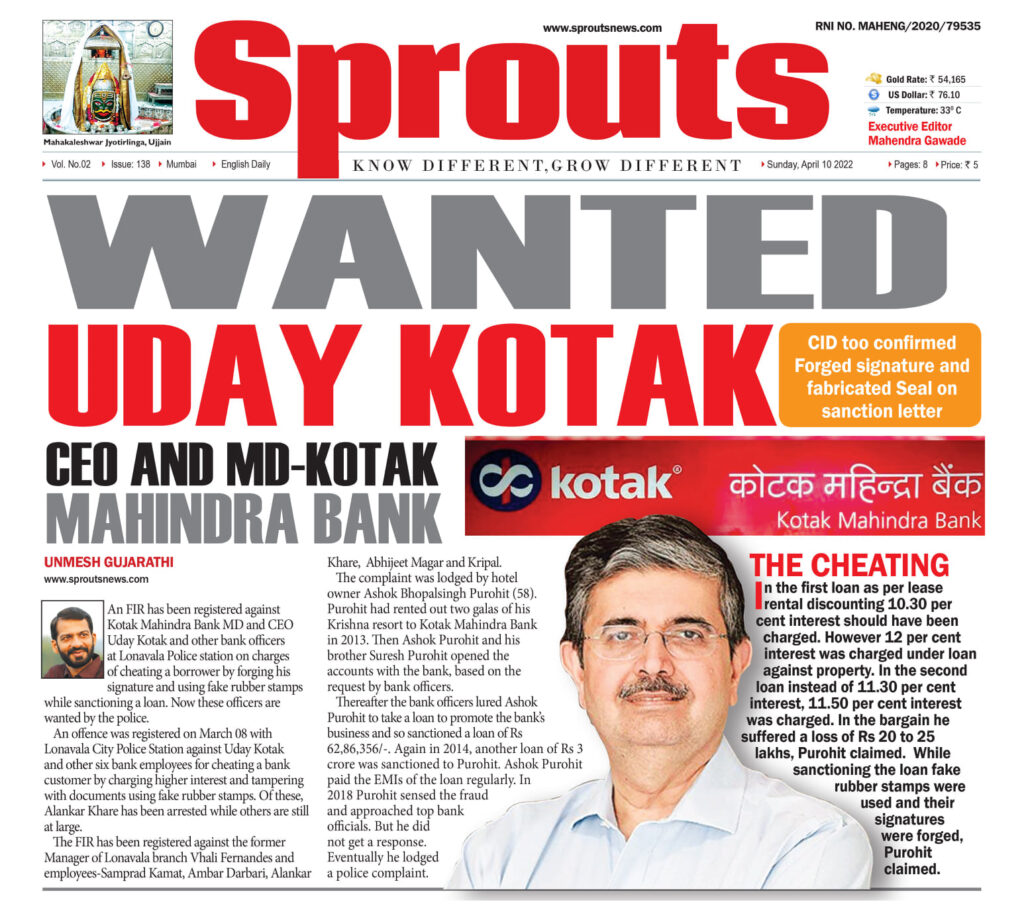 An FIR has been registered against Kotak Mahindra Bank MD and CEO Uday Kotak and other bank officers at Lonavala Police station on charges of cheating a borrower by forging his signature and using fake rubber stamps while sanctioning a loan. Now these officers are wanted by the police.
An offence was registered on March 08 with Lonavala City Police Station against Uday Kotak and other six bank employees for cheating a bank customer by charging higher interest and tampering with documents using fake rubber stamps. Of these, Alankar Khare has been arrested while others are still at large.
The FIR has been registered against the former Manager of Lonavala branch Vhali Fernandes and employees-Samprad Kamat, Ambar Darbari, Alankar Khare, Abhijeet Magar and Kripal.
The complaint was lodged by hotel owner Ashok Bhopalsingh Purohit (58). Purohit had rented out two galas of his Krishna resort to Kotak Mahindra Bank in 2013. Then Ashok Purohit and his brother Suresh Purohit opened the accounts with the bank, based on the request by bank officers.
Thereafter the bank officers lured Ashok Purohit to take a loan to promote the bank's business and so sanctioned a loan of Rs 62,86,356/- . Again in 2014, another loan of Rs 3 crore was sanctioned to Purohit. Ashok Purohit paid the EMIs of the loan regularly. In 2018 Purohit sensed the fraud and approached top bank officials. But he did not get a response. Eventually he lodged a police complaint.
•The cheating
In the first loan as per lease rental discounting 10.30 per cent interest should have been charged. However 12 per cent interest was charged under loan against property. In the second loan instead of 11.30 per cent interest, 11.50 per cent interest was charged. In the bargain he suffered a loss of Rs 20 to 25 lakhs, Purohit claimed. While sanctioning the loan fake rubber stamps were used and their signatures were forged, Purohit claimed.
---