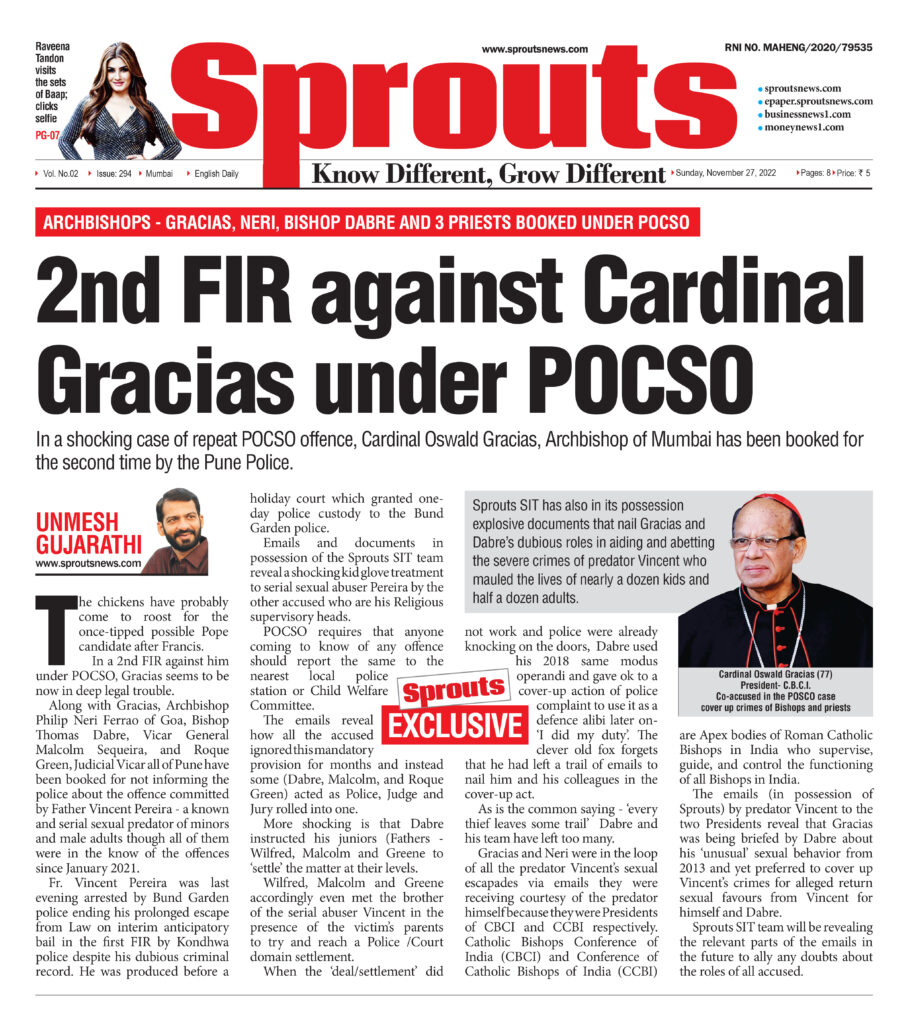 Unmesh Gujarathi
Sprouts Exclusive
In a shocking case of repeat POCSO offence, Cardinal Oswald Gracias, Archbishop of Mumbai has been booked for the second time by the Pune Police.
The chickens have probably come to roost for the once-tipped possible Pope candidate after Francis.
In a 2nd FIR against him under POCSO, Gracias seems to be now in deep legal trouble.
Along with Gracias, Archbishop Philip Neri Ferrao of Goa, Bishop Thomas Dabre, Vicar General Malcolm Sequeira, and Roque Green, Judicial Vicar all of Pune have been booked for not informing the police about the offence committed by Father Vincent Pereira – a known and serial sexual predator of minors and male adults though all of them were in the know of the offences since January 2021.
Fr. Vincent Pereira was last evening arrested by Bund Garden police ending his prolonged escape from Law on interim anticipatory bail in the first FIR by Kondhwa police despite his dubious criminal record. He was produced before a holiday court which granted one-day police custody to the Bund Garden police.
Emails and documents in possession of the Sprouts SIT team reveal a shocking kid glove treatment to serial sexual abuser Pereira by the other accused who are his Religious supervisory heads.
POCSO requires that anyone coming to know of any offence should report the same to the nearest local police station or Child Welfare Committee.
The emails reveal how all the accused ignored this mandatory provision for months and instead some ( Dabre, Malcolm, and Roque Green) acted as Police, Judge and Jury rolled into one.
More shocking is that Dabre instructed his juniors ( Fathers – Wilfred, Malcolm and Greene to 'settle' the matter at their levels.
Wilfred, Malcolm and Greene accordingly even met the brother of the serial abuser Vincent in the presence of the victim's parents to try and reach a Police /Court domain settlement.
When the 'deal/settlement' did not work and police were already knocking on the doors, Dabre used his 2018 same modus operandi and gave ok to a cover-up action of police complaint to use it as a defence alibi later on – 'I did my duty'. The clever old fox forgets that he had left a trail of emails to nail him and his colleagues in the cover-up act.
As is the common saying – ' every thief leaves some trail' Dabre and his team have left too many.
Gracias and Neri were in the loop of all the predator Vincent's sexual escapades via emails they were receiving courtesy of the predator himself because they were Presidents of CBCI and CCBI respectively.
Catholic Bishops Conference of India ( CBCI ) and Conference of Catholic Bishops of India ( CCBI ) are Apex bodies of Roman Catholic Bishops in India who supervise, guide, and control the functioning of all Bishops in India.
The emails ( in possession of Sprouts ) by predator Vincent to the two Presidents reveal that Gracias was being briefed by Dabre about his 'unusual' sexual behavior from 2013 and yet preferred to cover up Vincent's crimes for alleged return sexual favours from Vincent for himself and Dabre.
Sprouts SIT team will be revealing the relevant parts of the emails in the future to ally any doubts about the roles of all accused.
Sprouts SIT has also in its possession explosive documents that nail Gracias and Dabre's dubious roles in aiding and abetting the severe crimes of predator Vincent who mauled the lives of nearly a dozen kids and half a dozen adults.
---