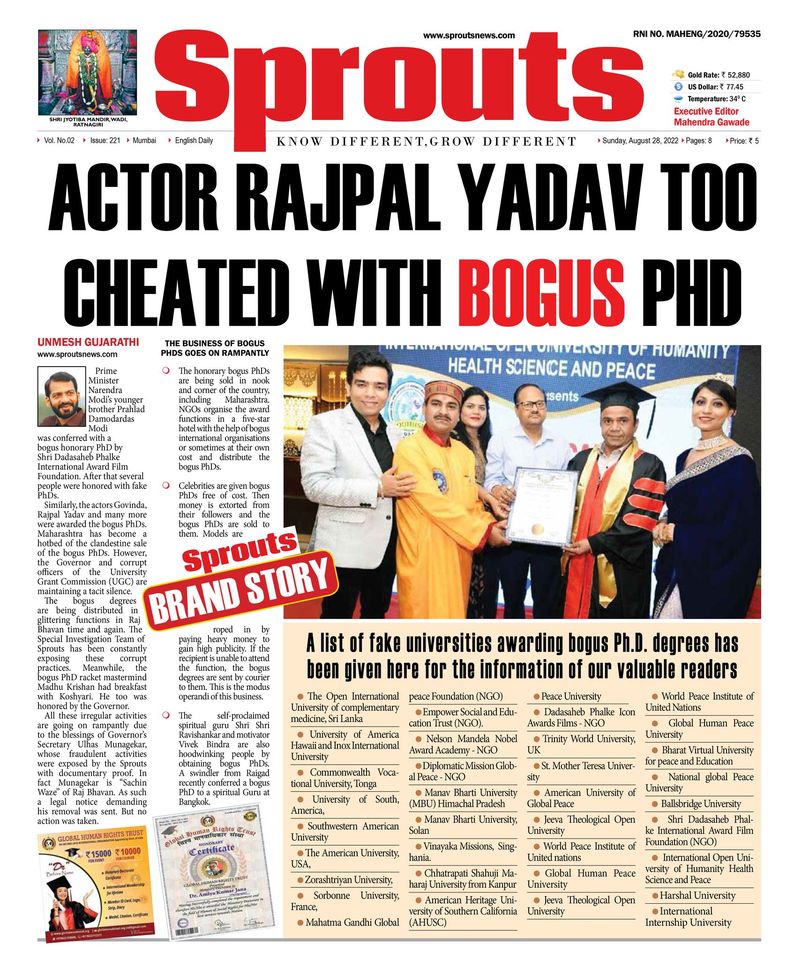 Prime Minister Narendra Modi's younger brother Prahlad Damodardas Modi was conferred with a bogus honorary PhD by Shri Dadasaheb Phalke International Award Film Foundation. After that several people were honored with fake PhDs.
Similarly, the actors Govinda, Rajpal Yadav and many more were awarded the bogus PhDs. Maharashtra has become a hotbed of the clandestine sale of the bogus PhDs. However, the Governor and corrupt officers of the University Grant Commission (UGC) are maintaining a tacit silence.
The bogus degrees are being distributed in glittering functions in Raj Bhavan time and again. The Special Investigation Team of Sprouts has been constantly exposing these corrupt practices. Meanwhile, the bogus PhD racket mastermind Madhu Krishan had breakfast with Koshyari. He too was honored by the Governor.
All these irregular activities are going on rampantly due to the blessings of Governor's Secretary Ulhas Munagekar, whose fraudulent activities were exposed by the Sprouts with documentary proof. In fact Munagekar is "Sachin Waze" of Raj Bhavan. As such a legal notice demanding his removal was sent. But no action was taken.
The honorary bogus PhDs are being sold in nook and corner of the country, including Maharashtra. NGOs organise the award functions in a five-star hotel with the help of bogus international organisations or sometimes at their own cost and distribute the bogus PhDs.
Celebrities are given bogus PhDs free of cost. Then money is extorted from their followers and the bogus PhDs are sold to them. Models are roped in by paying heavy money to gain high publicity. If the recipient is unable to attend the function, the bogus degrees are sent by courier to them. This is the modus operandi of this business.
The self-proclaimed spiritual guru Shri Shri Ravishankar and motivator Vivek Bindra are also hoodwinking people by obtaining bogus PhDs. A swindler from Raigad recently conferred a bogus PhD to a spiritual Guru at Bangkok.
A list of fake universities awarding bogus Ph.D. degrees has been given here for the information of our valuable readers:
► The Open International University of complementary medicine, Sri Lanka
► University of America Hawaii and Inox International University
► Commonwealth Vocational University, Tonga
► University of South, America,
► Southwestern American University
► The American University, USA,
► Zorashtriyan University,
► Sorbonne University, France,
► Mahatma Gandhi Global peace Foundation (NGO)
► Empower Social and Education Trust (NGO).
► Nelson Mandela Nobel Award Academy – NGO
► Diplomatic Mission Global Peace – NGO
► Manav Bharti University (MBU) Himachal Pradesh
► Manav Bharti University, Solan
► Vinayaka Missions Singhania.
► Chhatrapati Shahuji Maharaj University from Kanpur
► American Heritage University of Southern California
(AHUSC)
► Peace University
► Dadasaheb Phalke Icon Awards Films – NGO
► Trinity World University, UK
► St. Mother Teresa University
► American University of Global Peace
► Jeeva Theological Open University
► World Peace Institute of United Nations
► Global Human Peace University
► Bharat Virtual University for peace and Education
► National global Peace University
► Ballsbridge University
► Shri Dadasaheb Phalke International Award Film Foundation (NGO)
► International Open University of Humanity Health Science and Peace, USA
► Harshal University
► International Internship University
---