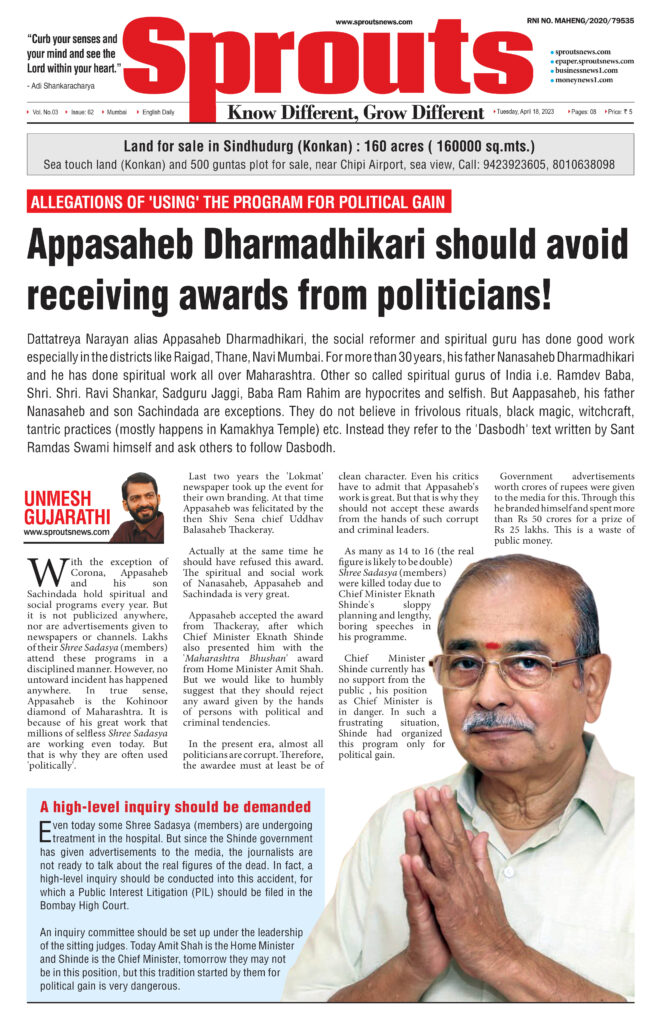 Dattatreya Narayan alias Appasaheb Dharmadhikari, the social reformer and spiritual guru has done good work especially in the districts like Raigad, Thane, Navi Mumbai. For more than 30 years, his father Nanasaheb Dharmadhikari and he has done spiritual work all over Maharashtra.
Unmesh Gujarathi
Sprouts Editorial

Other so called spiritual gurus of India i.e. Ramdev Baba, Shri. Shri. Ravi Shankar, Sadguru Jaggi, Baba Ram Rahim are hypocrites and selfish. But Aappasaheb, his father Nanasaheb and son Sachindada are exceptions.
They do not believe in frivolous rituals, black magic, witchcraft, tantric practices (mostly happens in Kamakhya Temple) etc. Instead they refer to the 'Dasbodh' text written by Sant Ramdas Swami himself and ask others to follow Dasbodh.
With the exception of Corona, Appasaheb and his son Sachindada hold spiritual and social programs every year. But it is not publicized anywhere, nor are advertisements given to newspapers or channels.
Lakhs of their Shree Sadasya (members) attend these programs in a disciplined manner. However, no untoward incident has happened anywhere. In true sense, Appasaheb is the Kohinoor diamond of Maharashtra. It is because of his great work that millions of selfless Shree Sadasya are working even today. But that is why they are often used 'politically'.
Last two years the 'Lokmat' newspaper took up the event for their own branding. At that time Appasaheb was felicitated by the then Shiv Sena chief Uddhav Balasaheb Thackeray.
Actually at the same time he should have refused this award. The spiritual and social work of Nanasaheb, Appasaheb and Sachindada is very great.
Appasaheb accepted the award from Thackeray, after which Chief Minister Eknath Shinde also presented him with the 'Maharashtra Bhushan' award from Home Minister Amit Shah.
But we would like to humbly suggest that they should reject any award given by the hands of persons with political and criminal tendencies.
In the present era, almost all politicians are corrupt. Therefore, the awardee must at least be of clean character. Even his critics have to admit that Appasaheb's work is great.
But that is why they should not accept these awards from the hands of such corrupt and criminal leaders.
Lakhs of Shree Sadasya ( members) had to sit in the scorching sun for more than 7 to 8 hours. As many as 14 to 15 (the real figure is likely to be double) Shree Sadasya (members) were killed today due to Chief Minister Eknath Shinde's sloppy planning ( and lengthy, boring speeches) in his programme.
Chief Minister Shinde currently has no support from the public , his position as Chief Minister is in danger. In such a frustrating situation, Shinde had organized this program only for political gain.
Government advertisements worth crores of rupees were given to the media for this. Through this he branded himself and spent more than Rs 50 crores for a prize of Rs 25 lakhs. This is a waste of public money.
Even today some Shree Sadasya (members) are undergoing treatment in the hospital. But since the Shinde government has given advertisements to the media, the journalists are not ready to talk about the real figures of the dead.
In fact, a high-level inquiry should be conducted into this accident, for which a Public Interest Litigation (PIL) should be filed in the Bombay High Court.
An inquiry committee should be set up under the leadership of the sitting judges. Today Amit Shah is the Home Minister and Shinde is the Chief Minister, tomorrow they may not be in this position, but this tradition started by them for political gain is very dangerous.