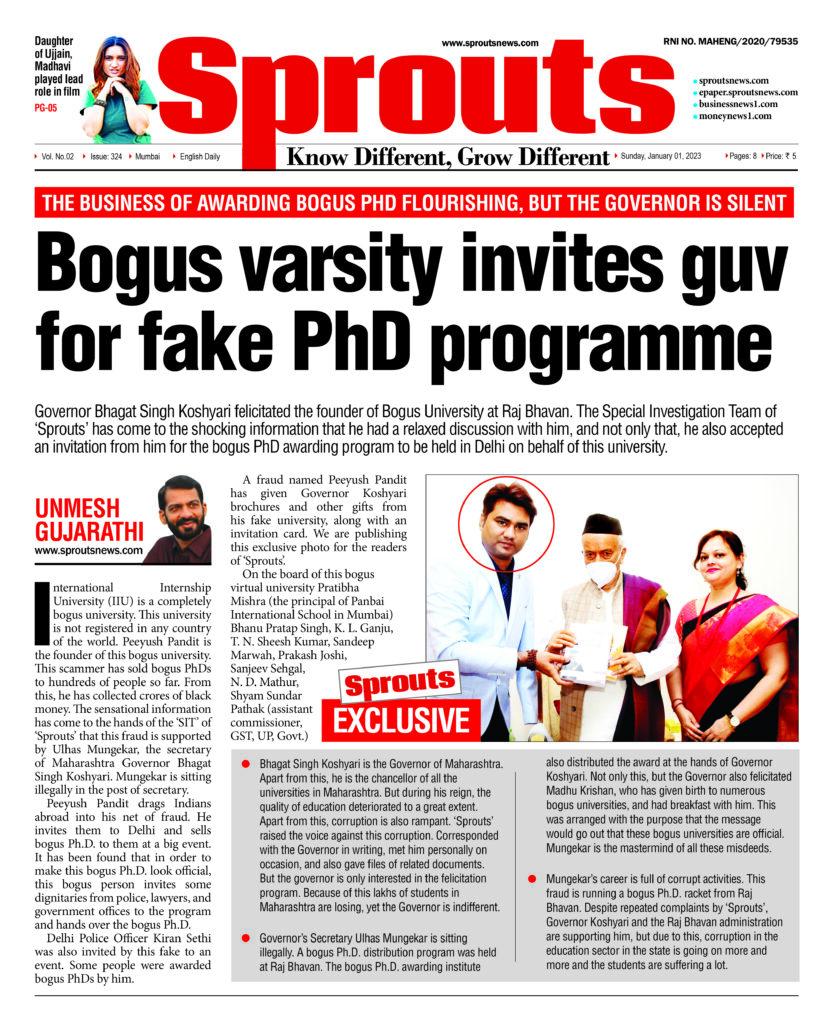 Governor Bhagat Singh Koshyari felicitated the founder of Bogus University at Raj Bhavan.
Unmesh Gujarathi
Sprouts Exclusive
The Special Investigation Team of 'Sprouts' has come to the shocking information that he had a relaxed discussion with him, and not only that, he also accepted an invitation from him for the bogus Ph.D. awarding program to be held in Delhi on behalf of this university.
International Internship University (IIU) is a completely bogus university. This university is not registered in any country of the world. Peeyush Pandit is the founder of this bogus university. This scammer has sold bogus PhDs to hundreds of people so far. From this, he has collected crores of black money.
The sensational information has come to the hands of the 'SIT' of 'Sprouts' that this fraud is supported by Ulhas Mungekar, the secretary of Maharashtra Governor Bhagat Singh Koshyari. Mungekar is sitting illegally in the post of secretary.
Peeyush Pandit drags Indians abroad into his net of fraud. He invites them to Delhi and sells bogus Ph.D. to them at a big event. It has been found that in order to make this bogus Ph.D. look official, this bogus person invites some dignitaries from police, lawyers, and government offices to the program and hands over the bogus Ph.D.
Delhi Police Officer Kiran Sethi was also invited by this fake to an event. Some people were awarded bogus PhDs by him.
A fraud named Pandit has given Governor Koshyari brochures and other gifts from his fake university, along with an invitation card. We are publishing this exclusive photo for the readers of 'Sprouts'.
On the board of this bogus virtual university Pratibha Mishra ( the principal of Panbai International School in Mumbai ) Bhanu Pratap Singh, K. L. Ganju, T. N. Sheesh Kumar, Sandeep Marwah, Prakash Joshi, Sanjeev Sehgal, N. D. Mathur, Shyam Sundar Pathak (assistant commissioner, GST, UP, Govt.) are included.
Bhagat Singh Koshyari is the Governor of Maharashtra. Apart from this, he is the chancellor of all the universities in Maharashtra. But during his reign, the quality of education deteriorated to a great extent. Apart from this, corruption is also rampant. 'Sprouts' raised the voice against this corruption.
Corresponded with the Governor in writing, met him personally on occasion, and also gave files of related documents. But the governor is only interested in the felicitation program. Because of this lakhs of students in Maharashtra are losing, yet the Governor is indifferent.
Governor's Secretary Ulhas Mungekar is sitting illegally. A bogus Ph.D. distribution program was held at Raj Bhavan. The bogus Ph.D. awarding institute also distributed the award at the hands of Governor Koshyari. Not only this, but the Governor also felicitated Madhu Krishan, who has given birth to numerous bogus universities, and had breakfast with him.
This was arranged with the purpose that the message would go out that these bogus universities are official. Mungekar is the mastermind of all these misdeeds.
Mungekar's career is full of corrupt activities. This fraud is running a bogus Ph.D. racket from Raj Bhavan. Despite repeated complaints by 'Sprouts', Governor Koshyari and the Raj Bhavan administration are supporting him, but due to this, corruption in the education sector in the state is going on more and more and the students are suffering a lot.

► The Open International
University of complementary medicine, Sri Lanka
► University of America Hawaii and Inox International University
► Commonwealth Vocational University, Tonga
► University of South, America,
► Southwestern American University
► The American University, USA,
► Zorashtriyan University,
► Sorbonne University, France,
► Mahatma Gandhi Global peace Foundation (NGO)
► Empower Social and Education Trust (NGO).
► Nelson Mandela Nobel Award Academy – NGO
► Diplomatic Mission Global Peace – NGO
► Manav Bharti University (MBU) Himachal Pradesh
► Manav Bharti University, Solan
► Vinayaka Missions Singhania.
► Chhatrapati Shahuji Maharaj University from Kanpur
► American Heritage University of Southern California (AHUSC)
► Peace University
► Dadasaheb Phalke Icon Awards Films – NGO
► Trinity World University, UK
► St. Mother Teresa University
► University of Macaria
► American University of Global Peace
► Jeeva Theological Open University
► World Peace Institute of United Nations
► Global Human Peace University
► Bharat Virtual University for peace and Education
► National global Peace University
► Ballsbridge University
► Shri Dadasaheb Phalke International Award Film Foundation (NGO)
► International Open University of Humanity Health, Science and Peace, USA
► Harshal University
► International Internship University – IIU
► British National University of Queen Mary.
► Jordan River University
► Boston Imperial University
► The University of Macaria
► Theophany University
► Dayspring Christan University
► South Western American University
► Global Triumph Virtual University
► Veekramsheela Hindi Vidyapeeth
► Jnana Deepa University (Pune)
► Oxfaa University
---