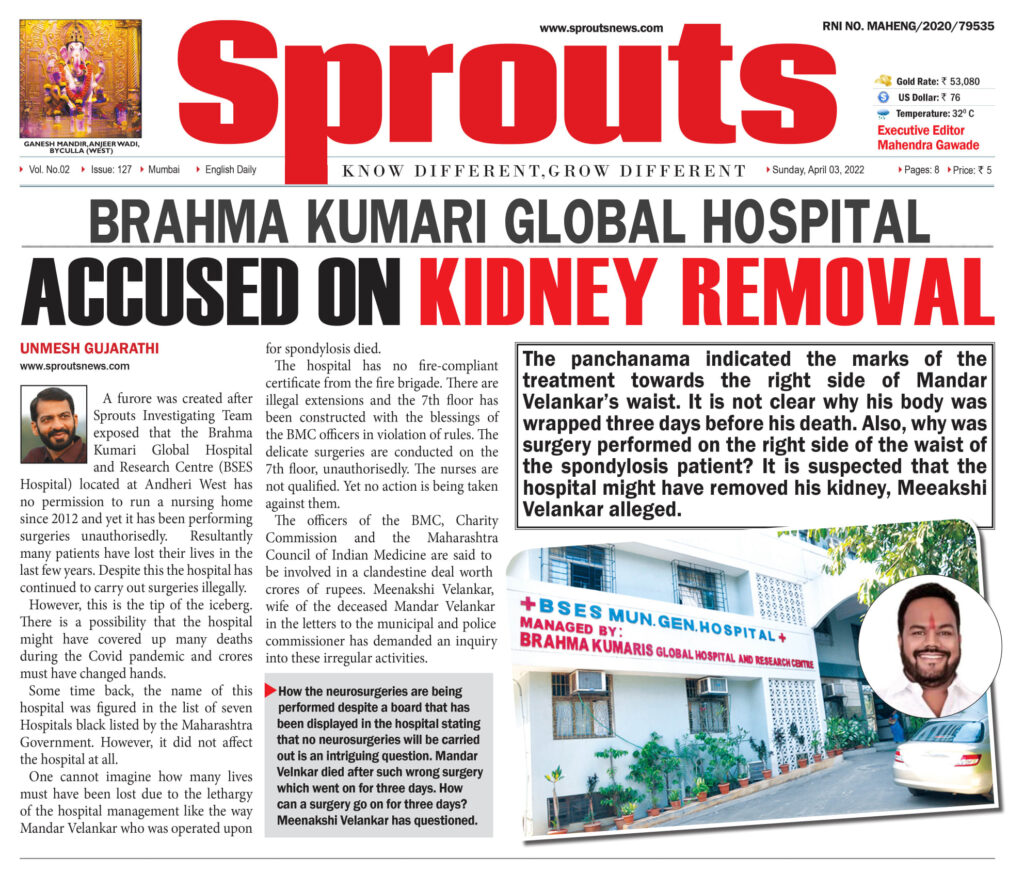 The police panchanama indicated the marks of the treatment towards the right side of Mandar Velankar's waist. It is not clear why his body was wrapped three days before his death. Also, why was surgery performed on the right side of the waist of the spondylosis patient? It is suspected that the hospital might have removed his kidney, Meeakshi Velankar alleged.
A furore was created after Sprouts Investigating Team exposed that the Brahma Kumari Global Hospital and Research Centre (BSES Hospital) located at Andheri West has no permission to run a nursing home since 2012 and yet it has been performing surgeries unauthorisedly. Resultantly many patients have lost their lives in the last few years. Despite this the hospital has continued to carry out surgeries illegally.
However, this is the tip of the iceberg. There is a possibility that the hospital might have covered up many deaths during the Covid pandemic and crores must have changed hands.
Some time back, the name of this hospital was figured in the list of seven Hospitals black listed by the Maharashtra Government. However, it did not affect the hospital at all. One cannot imagine how many lives must have been lost due to the lethargy of the hospital management like the way Mandar Velankar who was operated upon for spondylosis died.
The hospital has no fire-compliant certificate from the fire brigade. There are illegal extensions and the 7th floor has been constructed with the blessings of the BMC officers in violation of rules. The delicate surgeries are conducted on the 7th floor, unauthorisedly. The nurses are not qualified. Yet no action is being taken against them.
The officers of the BMC, Charity Commission and the Maharashtra Council of Indian Medicine are said to be involved in a clandestine deal worth crores of rupees. Meenakshi Velankar, wife of the deceased Mandar Velankar in the letters to the municipal and police commissioner has demanded an inquiry into these irregular activities.
How the neurosurgeries are being performed despite a board that has been displayed in the hospital stating that no neurosurgeries will be carried out is an intriguing question. Mandar Velnkar died after such wrong surgery which went on for three days. How can a surgery go on for three days? Meenakshi Velankar has questioned.
---