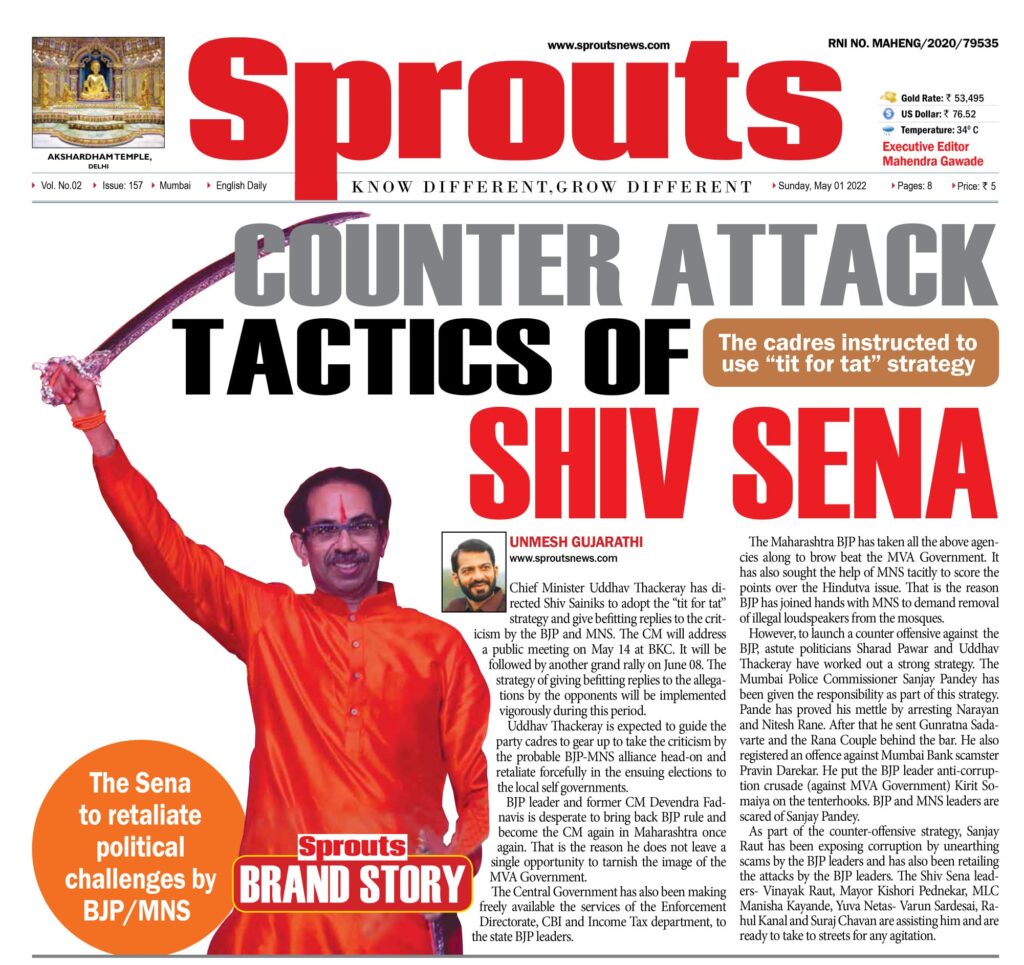 Chief Minister Uddhav Thackeray has directed Shiv Sainiks to adopt the "tit for tat" strategy and give befitting replies to the criticism by the BJP and MNS. The CM will address a public meeting on May 14 at BKC. It will be followed by another grand rally on June 08. The strategy of giving befitting replies to the allegations by the opponents will be implemented vigorously during this period.
Uddhav Thackeray is expected to guide the party cadres to gear up to take the criticism by the probable BJP-MNS alliance head-on and retaliate forcefully in the ensuing elections to the local self governments.
BJP leader and former CM Devendra Fadnavis is desperate to bring back BJP rule and become the CM again in Maharashtra once again. That is the reason he does not leave a single opportunity to tarnish the image of the MVA Government. The Central Government has also been making freely available the services of the Enforcement Directorate, CBI and Income Tax department, to the state BJP leaders.
The Maharashtra BJP has taken all the above agencies along to brow beat the MVA Government. It has also sought the help of MNS tacitly to score the points over the Hindutva issue. That is the reason BJP has joined hands with MNS to demand removal of illegal loudspeakers from the mosques.
However, to launch a counter offensive against the BJP, astute politicians Sharad Pawar and Uddhav Thackeray have worked out a strong strategy. The Mumbai Police Commissioner Sanjay Pandey has been given the responsibility as part of this strategy. Pande has proved his mettle by arresting Narayan and Nitesh Rane. After that he sent Gunratna Sadavarte and the Rana Couple behind the bar.
He also registered an offence against Mumbai Bank scamster Pravin Darekar. He put the BJP leader anti-corruption crusade (against MVA Government) Kirit Somaiya on the tenterhooks. BJP and MNS leaders are scared of Sanjay Pandey.
As part of the counter-offensive strategy, Sanjay Raut has been exposing corruption by unearthing scams by the BJP leaders and has also been retailing the attacks by the BJP leaders. The Shiv Sena leaders- Vinayak Raut, Mayor Kishori Pednekar, MLC Manisha Kayande, Yuva Netas- Varun Sardesai, Rahul Kanal and Suraj Chavan are assisting him and are ready to take to streets for any agitation.
---