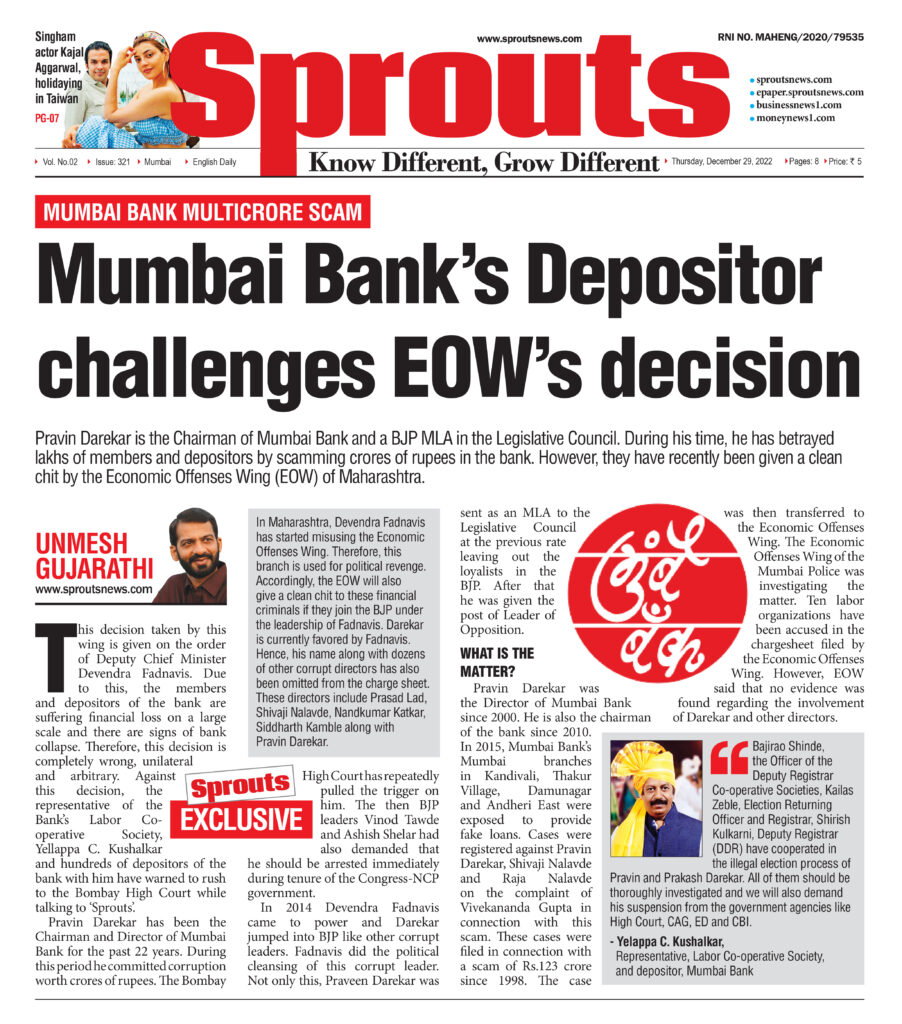 Unmesh Gujarati
Sprouts Exclusive
Mumbai Bank Multicrore Scam
Pravin Darekar is the Chairman of Mumbai Bank and a BJP MLA in the Legislative Council. During his time, he has betrayed lakhs of members and depositors by scamming crores of rupees in the bank. However, they have recently been given a clean chit by the Economic Offenses Wing (EOW) of Maharashtra.
This decision taken by this wing is given on the order of Deputy Chief Minister Devendra Fadnavis. Due to this, the members and depositors of the bank are suffering a financial loss on a large scale and there are signs of bank collapse. Therefore, this decision is completely wrong, unilateral and arbitrary. Against this decision, the representative of the Bank's Labor Co-operative Society, Yellappa C. Kushalkar and hundreds of depositors of the bank with him have warned to rush to the Bombay High Court while talking to 'Sprouts'.
Pravin Darekar has been the Chairman and Director of Mumbai Bank for the past 22 years. During this period he committed corruption worth crores of rupees. The Bombay High Court has repeatedly pulled the trigger on him. The then BJP leaders Vinod Tawde and Ashish Shelar had also demanded that he should be arrested immediately during the tenure of the Congress-NCP government.
In 2014 Devendra Fadnavis came to power and Darekar jumped into BJP like other corrupt leaders. Fadnavis did the political cleansing of this corrupt leader. Not only this, Praveen Darekar was sent as an MLA to the Legislative Council at the previous rate leaving out the loyalists in the BJP. After that, he was given the post of Leader of the Opposition.
In Maharashtra, Fadnavis has started misusing the Economic Offenses Wing. Therefore, this branch is used for political revenge. Accordingly, the EOW will also give a clean chit to these financial criminals if they join the BJP under the leadership of Fadnavis. Darekar is currently favored by Fadnavis. Hence, his name along with dozens of other corrupt directors has also been omitted from the charge sheet. These directors include Prasad Lad, Shivaji Nalavde, Nandkumar Katkar, Siddharth Kamble along with Pravin Darekar.
The case was then transferred to the Economic Offenses Wing. The Economic Offenses Wing of the Mumbai Police was investigating the matter. Ten labor organizations have been accused in the chargesheet filed by the Economic Offenses Wing. However, EOW said that no evidence was found regarding the involvement of Darekar and other directors.
" Bajirao Shinde, the Officer of the Deputy Registrar Co-operative Societies, Kailas Zeble, Election Returning Officer and Registrar, Shirish Kulkarni, Deputy Registrar (DDR) have cooperated in the illegal election process of Pravin and Prakash Darekar. All of them should be thoroughly investigated and we will also demand his suspension from the government agencies like High Court, CAG, ED and CBI."
Yelappa C. Kushalkar,
Representative, Labor Co-operative Society,
and depositor,
Mumbai Bank
---