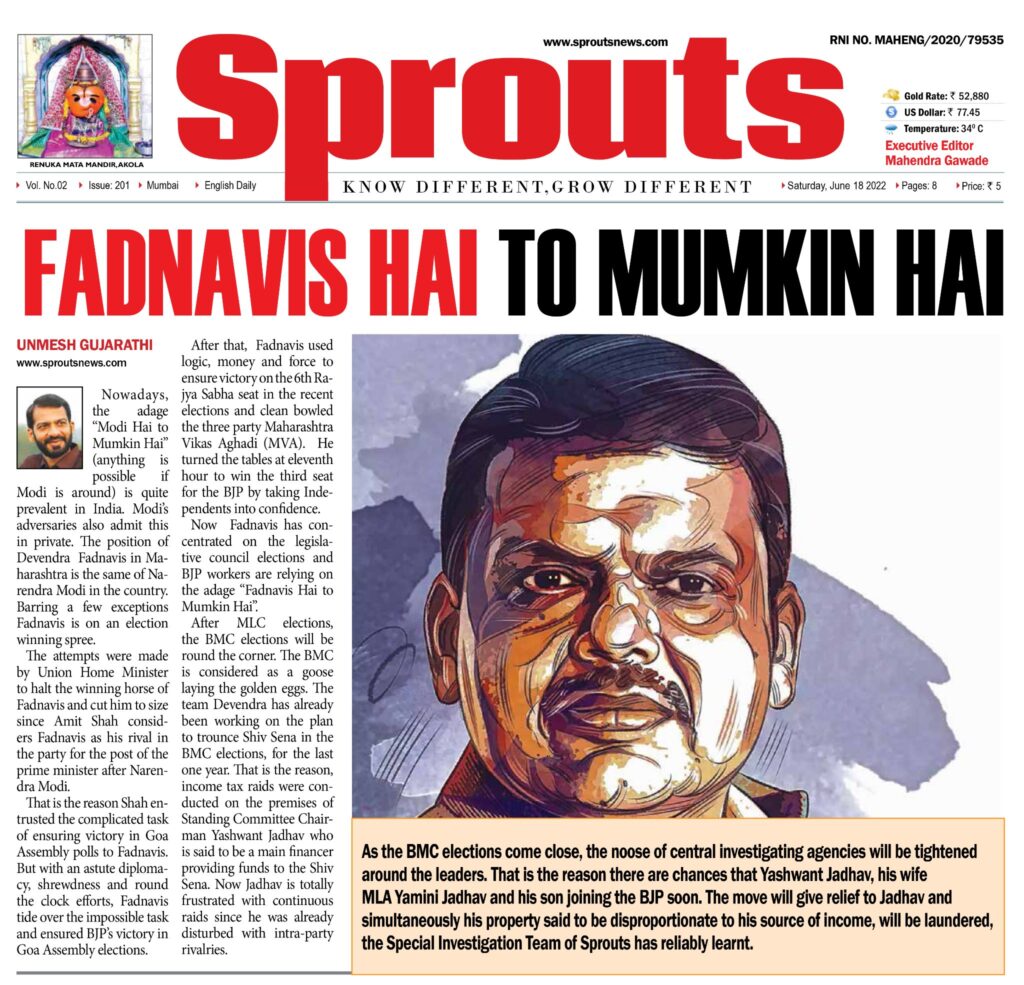 Nowadays, the adage "Modi Hai to Mumkin Hai" (anything is possible if Modi is around) is quite prevalent in India. Modi's adversaries also admit this in private. The position of Devendra Fadnavis in Maharashtra is the same of Narendra Modi in the country. Barring a few exceptions Fadnavis is on an election winning spree.
The attempts were made by Union Home Minister to halt the winning horse of Fadnavis and cut him to size since Amit Shah considers Fadnavis as his rival in the party for the post of the prime minister after Narendra Modi.
That is the reason Shah entrusted the complicated task of ensuring victory in Goa Assembly polls to Fadnavis. But with an astute diplomacy, shrewdness and round the clock efforts, Fadnavis tide over the impossible task and ensured BJP's victory in Goa Assembly elections.
After that, Fadnavis used logic, money and force to ensure victory on the 6th Rajya Sabha seat in the recent elections and clean bowled the three party Maharashtra Vikas Aghadi (MVA). He turned the tables at eleventh hour to win the third seat for the BJP by taking Independents into confidence.
Now Fadnavis has concentrated on the legislative council elections and BJP workers are relying on the adage "Fadnavis Hai to Mumkin Hai".
After MLC elections, the BMC elections will be round the corner. The BMC is considered as a goose laying the golden eggs. The team Devendra has already been working on the plan to trounce Shiv Sena in the BMC elections, for the last one year. That is the reason, income tax raids were conducted on the premises of Standing Committee Chairman Yashwant Jadhav who is said to be a main financer providing funds to the Shiv Sena. Now Jadhav is totally frustrated with continuous raids since he was already disturbed with intra-party rivalries.
As the BMC elections come close, the noose of central investigating agencies will be tightened around the leaders. That is the reason there are chances that Yashwant Jadhav, his wife MLA Yamini Jadhav and his son joining the BJP soon. The move will give relief to Jadhav and simultaneously his property said to be disproportionate to his source of income, will be laundered, the Special Investigation Team of Sprouts has reliably learnt.
---