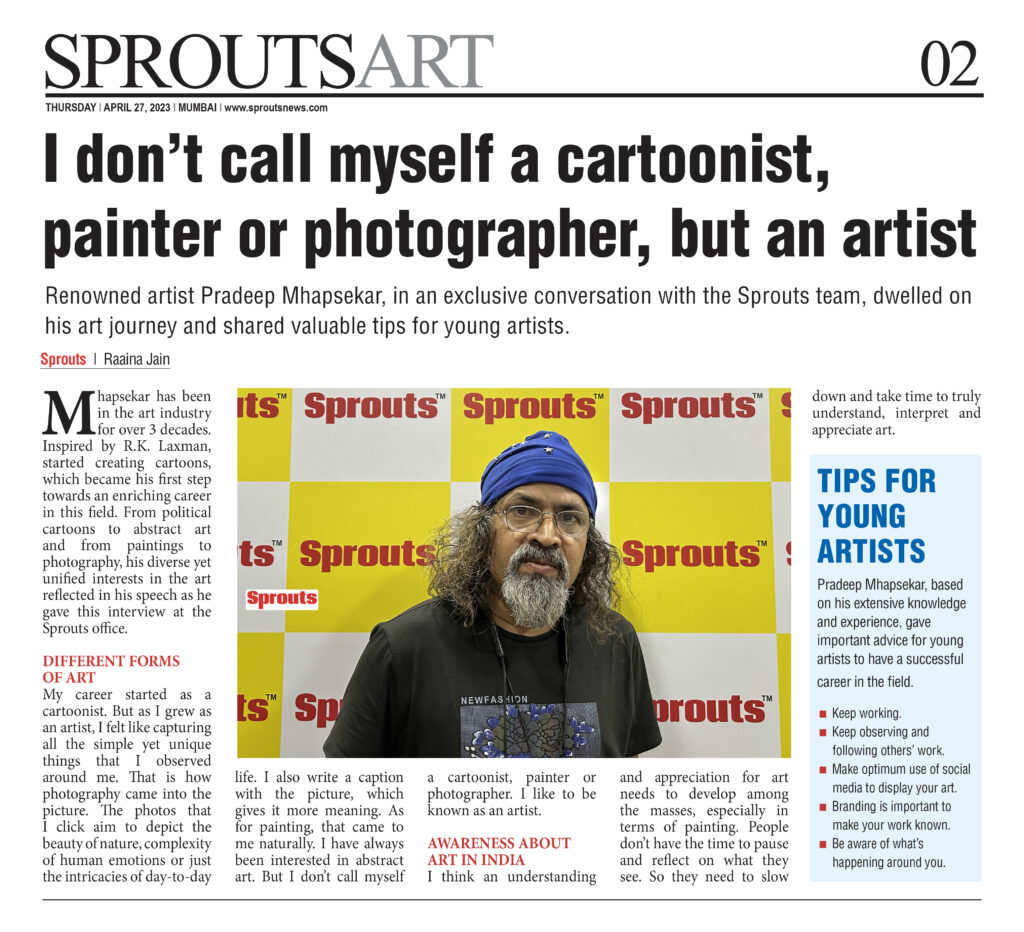 Raaina Jain
 Renowned artist Pradeep Mhapsekar, in an exclusive conversation with the Sprouts team, dwelled on his art journey and shared valuable tips for young artists.
Mhapsekar has been in the art industry for over 3 decades. Inspired by R.K. Laxman started creating cartoons, which became his first step towards an enriching career in this field. From political cartoons to abstract art and from paintings to photography, his diverse yet unified interests in the art reflected in his speech as he gave this interview at the Sprouts office.
DIFFERENT FORMS OF ART
My career started as a cartoonist. But as I grew as an artist, I felt like capturing all the simple yet unique things that I observed around me. That is how photography came into the picture. The photos that I click aim to depict the beauty of nature, complexity of human emotions or just the intricacies of day-to-day life.
I also write a caption with the picture, which gives it more meaning. As for painting, that came to me naturally. I have always been interested in abstract art. But I don't call myself a cartoonist, painter or photographer. I like to be known as an artist.
AWARENESS ABOUT ART IN INDIA
I think an understanding and appreciation for art needs to develop among the masses, especially in terms of painting. People don't have the time to pause and reflect on what they see. So they need to slow down and take time to truly understand, interpret and appreciate art.
TIPS FOR YOUNG ARTISTS
Pradeep Mhapsekar, based on his extensive knowledge and experience, gave important advice for young artists to have a successful career in the field.
* Keep working.
* Keep observing and following others' work.
* Make optimum use of social media to display your art.
* Branding is important to make your work known.
* Be aware of what's happening around you.