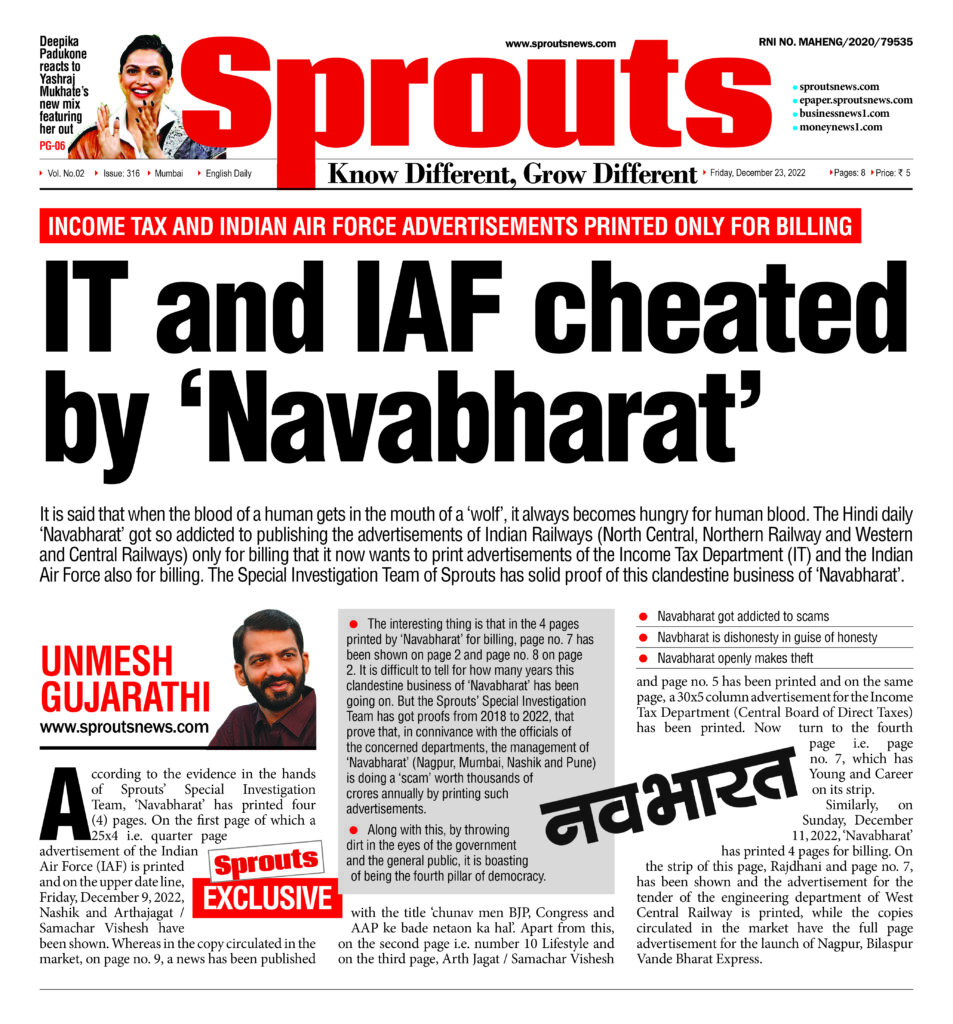 Income tax and Indian Air Force advertisements printed only for billing
Navabharat got addicted to scams
Navbharat is dishonesty in guise of honesty
Navabharat openly makes theft
Unmesh Gujarathi
Sprouts Exclusive
According to the evidence in the hands of Sprouts' Special Investigation Team, 'Navabharat' has printed four (4) pages. On the first page of which a 25×4 i.e. quarter page advertisement of the Indian Air Force (IAF) is printed and on the upper date line, Friday, December 9, 2022, Nashik and Arthajagat / Samachar Vishesh have been shown.
Whereas in the copy circulated in the market, on page no. 9, a news article has been published with the title 'chunav men BJP, Congress and AAP ke bade netaon ka hal'. Apart from this, on the second page i.e. number 10 Lifestyle and on the third page, Arth Jagat / Samachar Vishesh and page no. 5 has been printed and on the same page, a 30×5 column advertisement for the Income Tax Department (Central Board of Direct Taxes) has been printed. Now turn to the fourth page i.e. page no. 7, which has Young and Career on its strip.
Similarly, on Sunday, December 11, 2022, 'Navabharat' printed 4 pages for billing. On the strip of this page, Rajdhani and page no. 7, has been shown and the advertisement for the tender of the engineering department of West Central Railway is printed, while the copies circulated in the market have the full page advertisement for the launch of Nagpur, Vilaspur Vande Bharat Express.
The interesting thing is that in the 4 pages printed by 'Navabharat' for billing, page no. 7 has been shown on page 2 and page no. 8 on page 2. It is difficult to tell for how many years this clandestine business of 'Navabharat' has been going on. But the Sprouts' Special Investigation
Team has got proofs from 2018 to 2022, that prove that, in connivance with the officials of the concerned departments, the management of 'Navabharat' (Nagpur, Mumbai, Nashik and Pune) is doing a 'scam' worth thousands of crores annually by printing such advertisements. Along with this, by throwing dirt in the eyes of the government and the common man, it is boasting of being the fourth pillar of democracy.
---