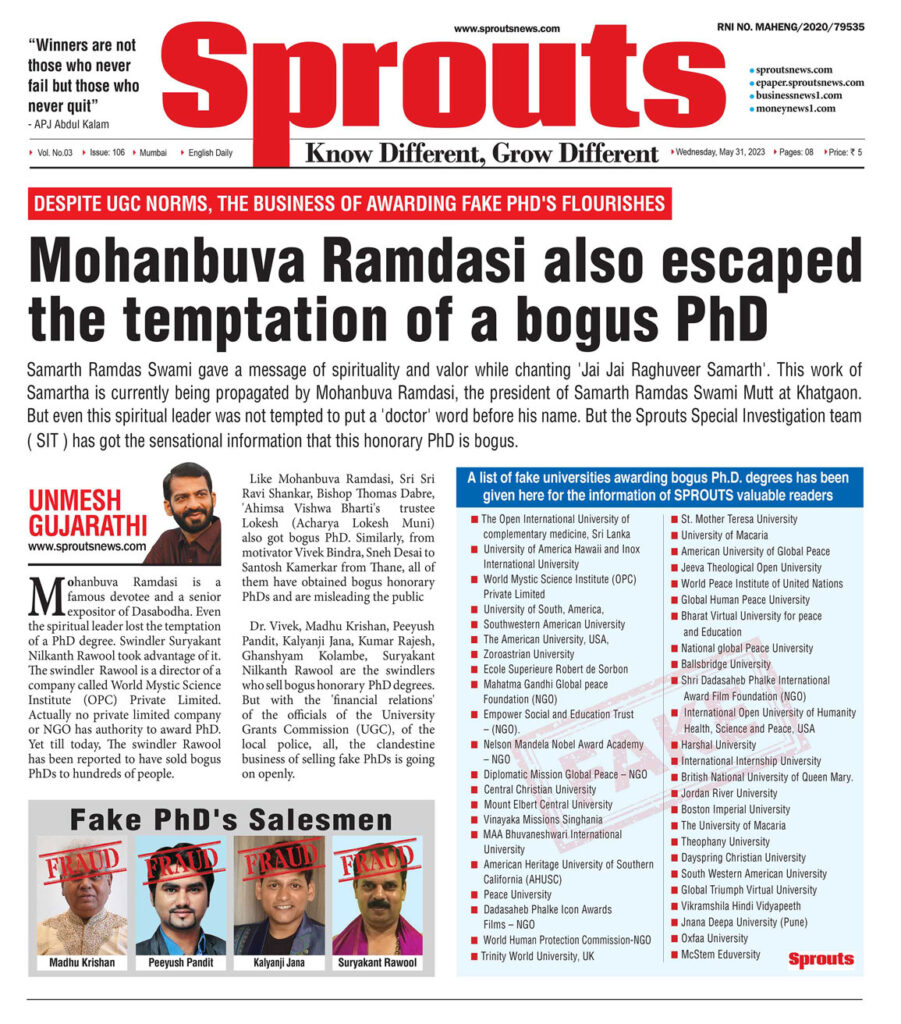 Samarth Ramdas Swami gave a message of spirituality and valor while chanting 'Jai Jai Raghuveer Samarth'. This work of Samartha is currently being propagated by Mohanbuva Ramdasi, the president of Samarth Ramdas Swami Mutt at Khatgaon.
Unmesh Gujarathi
Sprouts Exclusive
Even this spiritual leader was not tempted to put a 'doctor' word before his name. But the Sprouts Special Investigation team ( SIT ) has got the sensational information that this honorary PhD is bogus.
Mohanbuva Ramdasi is a famous devotee and a senior expositor of Dasabodha. Even the spiritual leader lost the temptation of a PhD degree. Swindler Suryakant Nilkanth Rawool took advantage of it.
The swindler is a director of a company called World Mystic Science Institute (OPC) Private Limited. Actually no private limited company or NGO has authority to award PhD. Yet till today, The swindler Rawool has been reported to have sold bogus PhDs to hundreds of people.
Read this also : Chhattisgarh CM was also cheated by giving bogus PhD
Like Mohanbuva Ramdasi, Sri Sri Ravi Shankar, Bishop Thomas Dabre, 'Ahimsa Vishwa Bharti's  trustee Lokesh (Acharya Lokesh Muni) also got bogus PhD.
Similarly, from motivator Vivek Bindra, Sneh Desai to Santosh Kamerkar from Thane, all of them have obtained bogus honorary PhDs and are misleading the public
Dr. Vivek, Madhu Krishan, Peeyush Pandit, Kalyanji Jana, Kumar Rajesh, Ghanshyam Kolambe, Suryakant Nilkanth Rawool are the swindlers who sell bogus honorary PhD degrees.
But with the 'financial relations' of the officials of the University Grants Commission (UGC), of the local police, all, the clandestine trade of selling fake PhDs is going on openly.

A list of fake universities awarding bogus Ph.D. degrees has been given here for the information of our valuable readers:
► The Open International University of complementary medicine, Sri Lanka
► University of America Hawaii and Inox International University
► World Mystic Science Institute (OPC) Private Limited
► University of South, America,
► Southwestern American University
► The American University, USA,
► Zoroastrian University,
► Mahatma Gandhi Global Peace Foundation (NGO)
► Empower Social and Education Trust (NGO).
► Nelson Mandela Nobel Award Academy – NGO
► Diplomatic Mission Global Peace – NGO
► Vinayaka Missions Singhania.
► American Heritage University of Southern California (AHUSC)
► Peace University
► Dadasaheb Phalke Icon Awards Films – NGO
► World Human Protection Commission- NGO
► Trinity World University, UK
► St. Mother Teresa University
► University of Macaria
► American University of Global Peace
► Jeeva Theological Open University
► World Peace Institute of United Nations
► Global Human Peace University
► Bharat Virtual University for peace and Education
► National global Peace University
► Ballsbridge University
► Shri Dadasaheb Phalke International Award Film Foundation (NGO)
► International Open University of Humanity Health, Science and Peace, USA
► Harshal University
► International Internship University
► British National University of Queen Mary.
► Jordan River University
► Boston Imperial University
► The University of Macaria
► Theophany University
► Dayspring Christian University
► South Western American University
► Global Triumph Virtual University
► Vikramsheela Hindi Vidyapeeth
► Jnana Deepa University (Pune)
► Oxfaa University
► Mount Elbert Central University
► McSTEM Eduversity, USA
► Maa Bhuvaneshwari International University
► The Institute of Entrepreneurship and Management Studies (IEMS)
► Ecole Superieure Robert de Sorbon
►Central Christian University