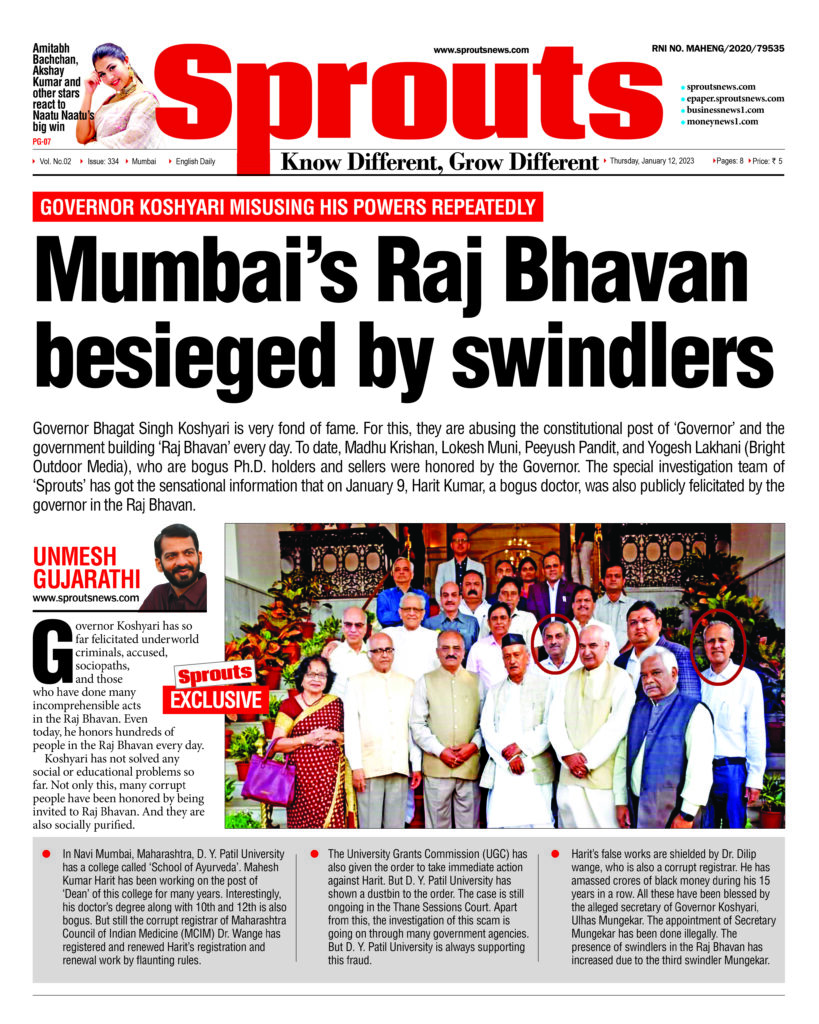 Unmesh Gujarati
Sprouts Exclusive
Governor Bhagat Singh Koshyari is very fond of fame. For this, they are abusing the constitutional post of 'Governor' and the government building 'Raj Bhavan' every day. To date, Madhu Krishan, Lokesh Muni, Peeyush Pandit, and Yogesh Lakhani (Bright Outdoor Media), who are bogus Ph.D. holders and sellers, were honored by the Governor. The special investigation team of 'Sprouts' has got the sensational information that on January 9, Harit Kumar, a bogus doctor, was also publicly felicitated by the governor in the Raj Bhavan.
Governor Koshyari has so far felicitated underworld criminals, accused, sociopaths, and those who have done many incomprehensible acts in the Raj Bhavan. Even today, he honors hundreds of people in the Raj Bhavan every day.
Koshyari has not solved any social or educational problems so far. Not only this, many corrupt people have been honored by being invited to Raj Bhavan. And they are also socially purified.
In Navi Mumbai, Maharashtra, D. Y. Patil University has a college called 'School of Ayurveda'. Mahesh Kumar Harit has been working on the post of 'Dean' of this college for many years. Interestingly, his doctor's degree along with 10th and 12th is also bogus. But still the corrupt registrar of Maharashtra Council of Indian Medicine (MCIM) Dr. Wange has registered and renewed Harit's registration and renewal work by flaunting rules.
The University Grants Commission (UGC) has also given the order to take immediate action against Harit. But 'D. Y. Patil University has shown a dustbin to the order. The case is still ongoing in the Thane Sessions Court. Apart from this, the investigation of this scam is going on through many government agencies. But D. Y. Patil University is always supporting this fraud.
Harit's false works are shielded by Dr. Dilip wange, who is also a corrupt registrar. He has amassed crores of black money during his 15 years in a row. All these have been blessed by the alleged secretary of Governor Koshyari, Ulhas Mungekar. The appointment of Secretary Mungekar has been done illegally. The presence of swindlers in the Raj Bhavan has increased due to the third swindler Mungekar.