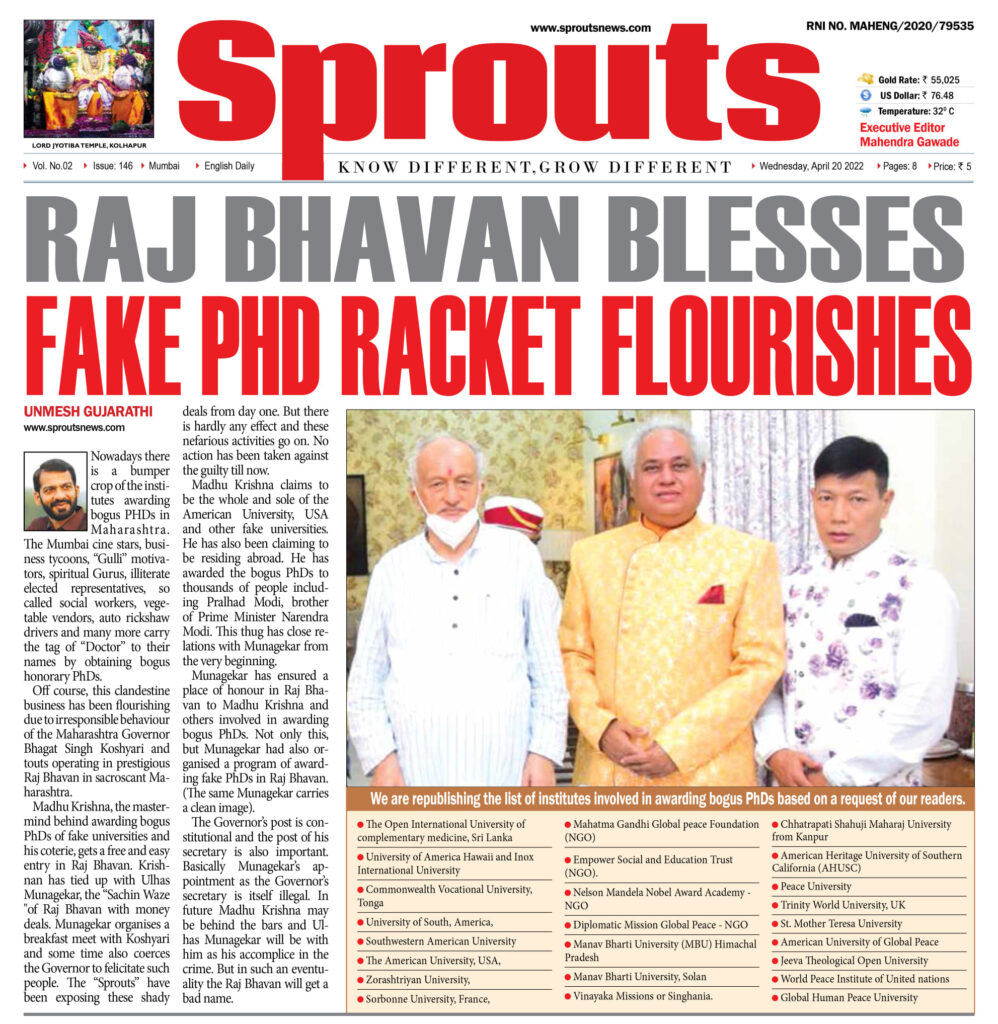 Nowadays there is a bumper crop of the institutes awarding bogus PHDs in Maharashtra. The Mumbai cine stars, business tycoons, "Gulli" motivators, spiritual Gurus, illiterate elected representatives, so called social workers, vegetable vendors, auto rickshaw drivers and many more carry the tag of "Doctor" to their names by obtaining bogus honorary PhDs.
Off course, this clandestine business has been flourishing due to irresponsible behaviour of the Maharashtra Governor Bhagat Singh Koshyari and touts operating in prestigious Raj Bhavan in sacroscant Maharashtra.
Madhu Krishna, the mastermind behind awarding bogus PhDs of fake universities and his coterie, gets a free and easy entry in Raj Bhavan. Krishnan has tied up with Ulhas Munagekar, the "Sachin Waze "of Raj Bhavan with money deals.
Munagekar organises a breakfast meet with Koshyari and some time also coerces the Governor to felicitate such people. The "Sprouts" have been exposing these shady deals from day one. But there is hardly any effect and these nefarious activities go on. No action has been taken against the guilty till now.
Madhu Krishna claims to be the whole and sole of the American University, USA and other fake universities. He has also been claiming to be residing abroad. He has awarded the bogus PhDs to thousands of people including Pralhad Modi, brother of Prime Minister Narendra Modi. This thug has close relations with Munagekar from the very beginning.
Munagekar has ensured a place of honour in Raj Bhavan to Madhu Krishna and others involved in awarding bogus PhDs. Not only this, but Munagekar had also organised a program of awarding fake PhDs in Raj Bhavan. (The same Munagekar carries a clean image).
The Governor's post is constitutional and the post of his secretary is also important. Basically Munagekar's appointment as the Governor's secretary is itself illegal. In future Madhu Krishna may be behind the bars and Ulhas Munagekar will be with him as his accomplice in the crime. But in such an eventuality the Raj Bhavan will get a bad name.
We are republishing the list of institutes involved in awarding bogus PhDs based on a request of our readers.
► The Open International University of complementary medicine, Sri Lanka
► University of America Hawaii and Inox International University
► Commonwealth Vocational University, Tonga
► University of South, America,
► Southwestern American University
► The American University, USA,
► Zorashtriyan University,
► Sorbonne University, France,
► Mahatma Gandhi Global peace Foundation (NGO)
► Empower Social and Education Trust (NGO).
► Nelson Mandela Nobel Award Academy – NGO
► Diplomatic Mission Global Peace – NGO
► Manav Bharti University (MBU) Himachal Pradesh
► Manav Bharti University, Solan
► Vinayaka Missions or Singhania.
► Chhatrapati Shahuji Maharaj University from Kanpur
► American Heritage University of Southern California (AHUSC)
► Peace University
► Trinity World University, UK
► St. Mother Teresa University
► American University of Global Peace
► Jeeva Theological Open University
► World Peace Institute of United nations
► Global Human Peace University
---