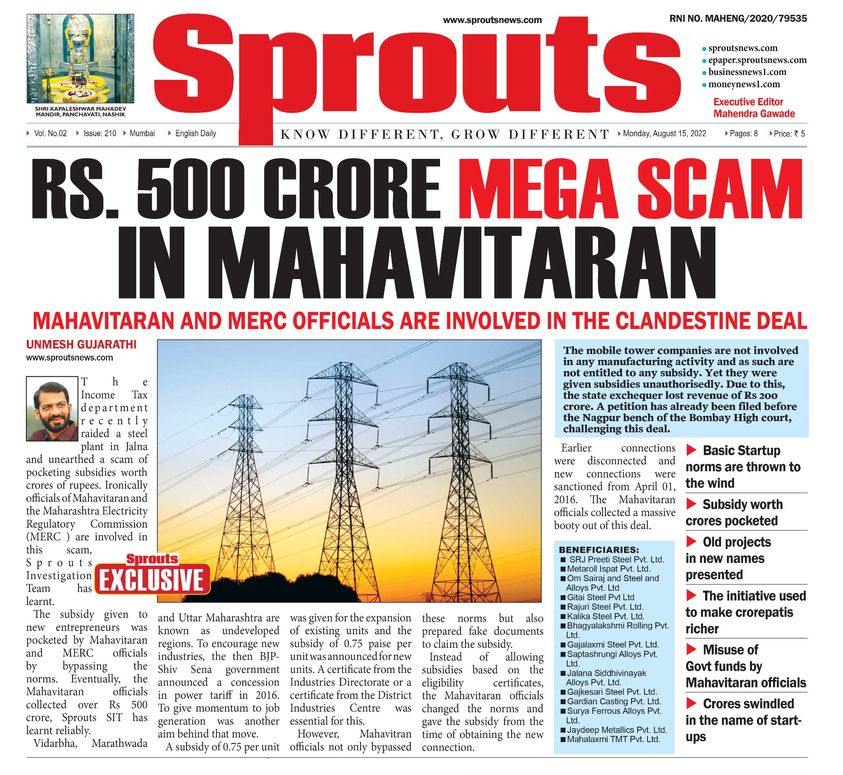 The Income Tax department recently raided a steel plant in Jalna and unearthed a scam of pocketing subsidies worth crores of rupees. Ironically officials of Mahavitaran and the Maharashtra Electricity Regulatory Commission (MERC) are involved in this scam, Sprouts Investigation Team has learnt.
The subsidy given to new entrepreneurs was pocketed by Mahavitaran and MERC officials by bypassing the norms. Eventually, the Mahavitaran officials collected over Rs 500 crore, Sprouts SIT has learnt reliably.
Vidarbha, Marathwada and Uttar Maharashtra are known as undeveloped regions. To encourage new industries, the then BJP-Shiv Sena government announced a concession in power tariff in 2016. To give momentum to job generation was another aim behind that move.
A subsidy of 0.75 per unit was given for the expansion of existing units and the subsidy of 0.75 paise per unit was announced for new units. A certificate from the Industries Directorate or a certificate from the District Industries Centre was essential for this.
However, Mahavitran officials not only bypassed these norms but also prepared fake documents to claim the subsidy.
Instead of allowing subsidies based on the eligibility certificates, the Mahavitaran officials changed the norms and gave the subsidy from the time of obtaining the new connection.
Earlier connections were disconnected and new connections were sanctioned from April 01, 2016. The Mahavitaran officials collected a massive booty out of this deal.
The mobile tower companies are not involved in any manufacturing activity and as such are not entitled to any subsidy. Yet they were given subsidies unauthorisedly. Due to this, the state exchequer lost revenue of Rs 200 crore. A petition has already been filed before the Nagpur bench of the Bombay High court, challenging this deal.
Beneficiaries:
SRJ Preeti Steel Pvt. Ltd.
Metaroll Ispat Pvt. Ltd.
Om Sairaj and Steel and Alloys Pvt. Ltd
Gitai Steel Pvt Ltd
Rajuri Steel Pvt. Ltd.
Kalika Steel Pvt. Ltd.
Bhagyalakshmi Rolling Pvt. Ltd.
Gajalaxmi Steel Pvt. Ltd.
Saptashrungi Alloys Pvt. Ltd.
Jalna Siddhivinayak Alloys Pvt. Ltd.
Gajkesari Steel Pvt. Ltd.
Guardian Casting Pvt. Ltd.
Surya Ferrous Alloys Pvt. Ltd.
Jaydeep Metallics Pvt. Ltd.
Mahalaxmi TMT Pvt. Ltd.
---