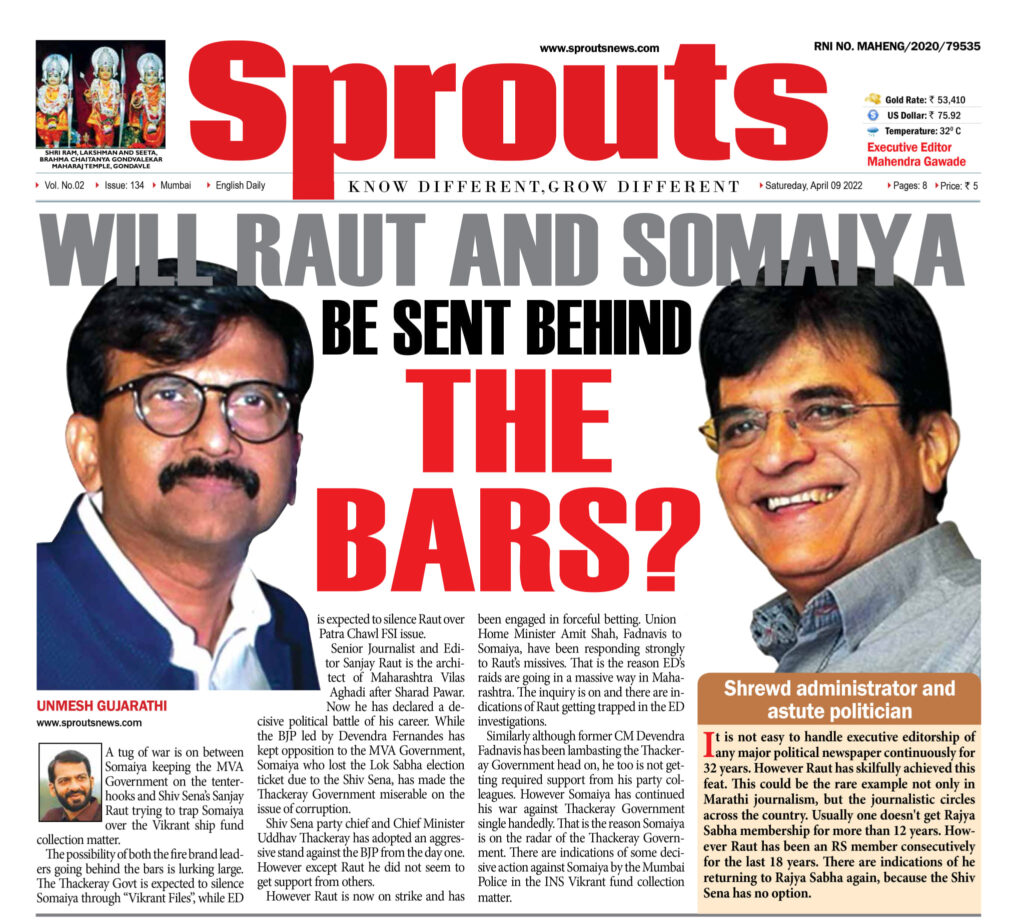 A tug of war is on between Somaiya keeping the MVA Government on the tenterhooks and Shiv Sena's Sanjay Raut trying to trap Somaiya over the Vikrant ship fund collection matter.
The possibility of both the fire brand leaders going behind the bars is lurking large. The Thackeray Govt is expected to silence Somaiya through "Vikrant Files", while ED is expected to silence Raut over Patra Chawl FSI issue.
Senior Journalist and Editor Sanjay Raut is the architect of Maharashtra Vilas Aghadi after Sharad Pawar. Now he has declared a decisive political battle of his career. While the BJP led by Devendra Fernandes has kept opposition to the MVA Government, Somaiya who lost the Lok Sabha election ticket due to the Shiv Sena, has made the Thackeray Government miserable on the issue of corruption.
Shiv Sena party chief and Chief Minister Uddhav Thackeray has adopted an aggressive stand against the BJP from the day one. However except Raut he did not seem to get support from others.
However Raut is now on strike and has been engaged in forceful betting. Union Home Minister Amit Shah, Fadnavis to Somaiya, have been responding strongly to Raut's missives. That is the reason ED's raids are going in a massive way in Maharashtra. The inquiry is on and there are indications of Raut getting trapped in the ED investigations.
Similarly although former CM Devendra Fadnavis has been lambasting the Thackeray Government head on, he too is not getting required support from his party colleagues. However Somaiya has continued his war against Thackeray Government single handedly. That is the reason Somaiya is on the radar of the Thackeray Government. There are indications of some decisive action against Somaiya by the Mumbai Police in the INS Vikrant fund collection matter.
• Shrewd administrator and astute politician
It is not easy to handle executive editorship of any major political newspaper continuously for 32 years. However Raut has skilfully achieved this feat. This could be the rare example not only in Marathi journalism, but the journalistic circles across the country. Usually one doesn't get Rajya Sabha membership for more than 12 years. However Raut has been an RS member consecutively for the last 18 years. There are indications of he returning to Rajya Sabha again, because the Shiv Sena has no option.
---