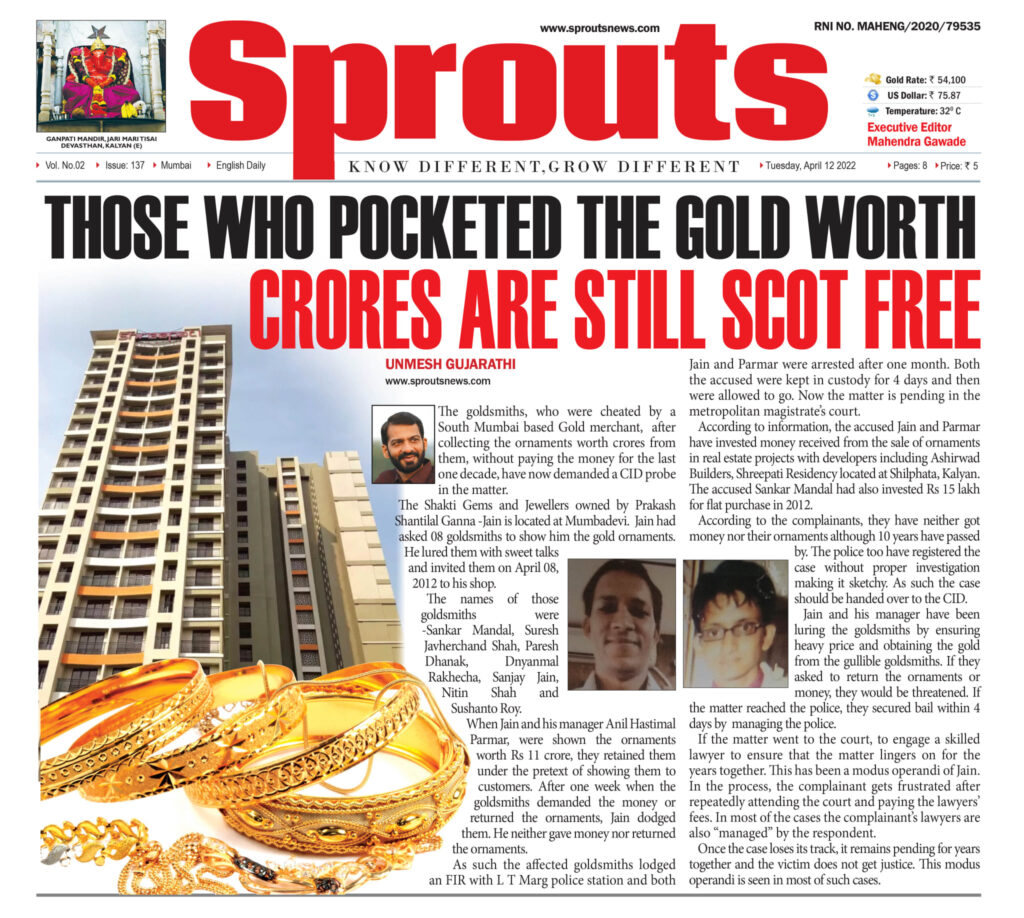 The goldsmiths, who were cheated by a South Mumbai based Gold merchant, after collecting the ornaments worth crores from them, without paying the money for the last one decade, have now demanded a CID probe in the matter.
The Shakti Gems and Jewellers owned by Prakash Shantilal Ganna – Jain is located at Mumbadevi. Jain had asked 08 goldsmiths to show him the gold ornaments. He lured them with sweet talks and invited them on April 08, 2012 to his shop. The names of those goldsmiths were -Sankar Mandal, Suresh Javherchand Shah, Paresh Dhanak, Dnyanmal Rakhecha, Sanjay Jain, Nitin Shah and Sushanto Roy.
When Jain and his manager Anil Hastimal Parmar, were shown the ornaments worth Rs 11 crore, they retained them under the pretext of showing them to customers. After one week when the goldsmiths demanded the money or returned the ornaments, Jain dodged them. He neither gave money nor returned the ornaments.
As such the affected goldsmiths lodged an FIR with L T Marg police station and both Jain and Parmar were arrested after one month. Both the accused were kept in custody for 4 days and then were allowed to go. Now the matter is pending in the metropolitan magistrate's court.
According to information, the accused Jain and Parmar have invested money received from the sale of ornaments in real estate projects with developers including Ashirwad Builders, Shreepati Residency located at Shilphata, Kalyan. The accused had Sankar Mandal also invested Rs 15 lakh for flat purchase in 2012.
According to the complainants, they have neither got money nor their ornaments although 10 years have passed by. The police too have registered the case without proper investigation making it sketchy. As such the case should be handed over to the CID.
Jain and his manager have been luring the goldsmiths by ensuring heavy price and obtaining the gold from the gullible goldsmiths. If they asked to return the ornaments or money, they would be threatened. If the matter reached the police, they secured bail within 4 days by managing the police.
If the matter went to the court, to engage a skilled lawyer to ensure that the matter lingers on for the years together. This has been a modus operandi of Jain. In the process, the complainant gets frustrated after repeatedly attending the court and paying the lawyers' fees. In most of the cases the complainant's lawyers are also "managed" by the respondent.
Once the case loses its track, it remains pending for years together and the victim does not get justice. This modus operandi is seen in most of such cases.
---