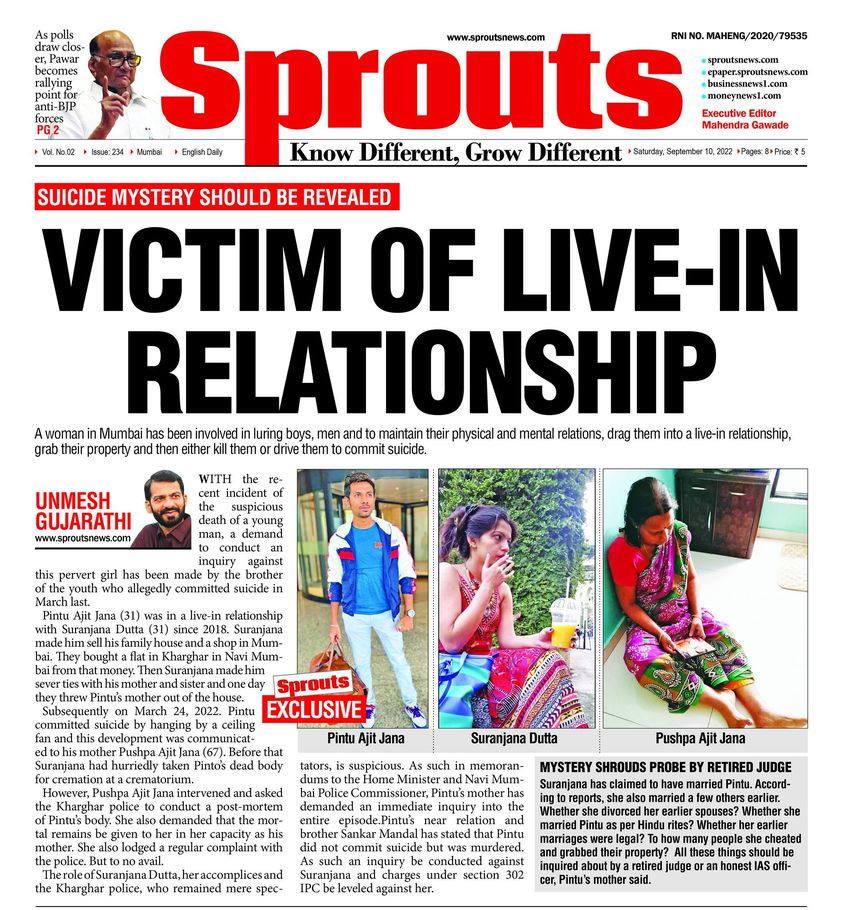 A woman in Mumbai has been involved in luring boys, men and to maintain their physical and mental relations, drag them into a live-in relationship, grab their property and then either kill them or drive them to commit suicide.
With the recent incident of the suspicious death of a young man, a demand to conduct an inquiry against this pervert girl has been made by the brother of the youth who allegedly committed suicide in March last.
Pintu Ajit Jana (31) was in a live-in relationship with Suranjana Dutta (31) since 2018. Suranjana made him sell his family house and a shop in Mumbai. They bought a flat in Kharghar in Navi Mumbai from that money. Then Suranjana made him sever ties with his mother and sister and one day they threw Pintu's mother out of the house.
Subsequently on March 24, 2022. Pintu committed suicide by hanging by a ceiling fan and this development was communicated to his mother Pushpa Ajit Jana (67). Before that Suranjana had hurriedly taken Pinto's dead body for cremation at a crematorium.
However, Pushpa Ajit Jana intervened and asked the Kharghar police to conduct a post-mortem of Pintu's body. She also demanded that the mortal remains be given to her in her capacity as his mother. She also lodged a regular complaint with the police. But to no avail.
The role of Suranjana Dutta, her accomplices and the Kharghar police, who remained mere spectators, is suspicious. As such in memorandums to the Home Minister and Navi Mumbai Police Commissioner, Pintu's mother has demanded an immediate inquiry into the entire episode.
Suranjana has claimed to have married Pintu. According to reports, she also married a few others earlier. Whether she divorced her earlier spouses? Whether she married Pintu as per Hindu rites? Whether her earlier marriages were legal? To how many people she cheated and grabbed their property? All these things should be inquired about by a retired judge or an honest IAS officer, Pintu's mother said.
Pintu's near relation and brother Sankar Mandal have stated that Pintu did not commit suicide but was murdered. As such an inquiry be conducted against Suranjana and charges under section 302 IPC be leveled against her.
---