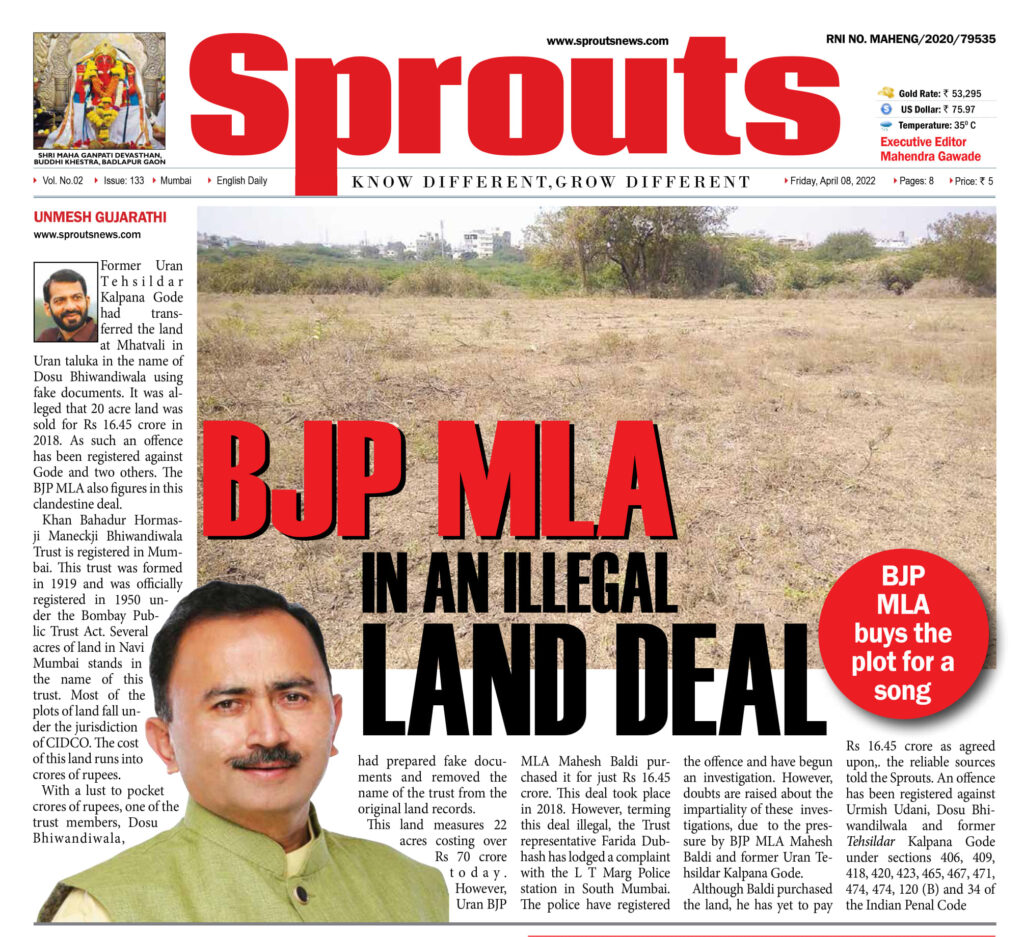 Former Uran Tehsildar Kalpana Gode had transferred the land at Mhatvali in Uran taluka in the name of Dosu Bhiwandiwala using fake documents. It was alleged that 20 acre land was sold for Rs 16.45 crore in 2018. As such an offence has been registered against Gode and two others. The BJP MLA also figures in this clandestine deal.
• The trust documents tempered with
Khan Bahadur Hormasji Maneckji Bhiwandiwala Trust is registered in Mumbai. This trust was formed in 1919 and was officially registered in 1950 under the Bombay Public Trust Act. Several acres of land in Navi Mumbai stands in the name of this trust. Most of the plots of land fall under the jurisdiction of CIDCO. The cost of this land runs into crores of rupees.
• Embezzles crores of rupees by buying the plot of land illegally
With a lust to pocket crores of rupees, one of the trust members, Dosu Bhiwandiwala, had prepared fake documents and removed the name of the trust from the original land records.
• BJP MLA in an illegal land deal
This land measures 22 acres costing over Rs 70 crore today. However, Uran BJP MLA Mahesh Baldi purchased it for just Rs 16.45 crore. This deal took place in 2018. However, terming this deal illegal, the Trust representative Farida Dubhash has lodged a complaint with the L T Marg Police station in South Mumbai. The police have registered the offence and have begun an investigation. However, doubts are raised about the impartiality of these investigations, due to the pressure by BJP MLA Mahesh Baldi and former Uran Tehsildar Kalpana Gode.
Although Baldi purchased the land, he has yet to pay Rs 16.45 crore as agreed upon,. the reliable sources told the Sprouts. An offence has been registered against Urmish Udani, Dosu Bhiwandilwala, former Tehsildar Kalpana Gode and BJP MLA Mahesh Baldi under sections 406, 409, 418, 420, 423, 465, 467, 471, 474, 474, 120 (B) and 34 of the Indian Penal Code.
---