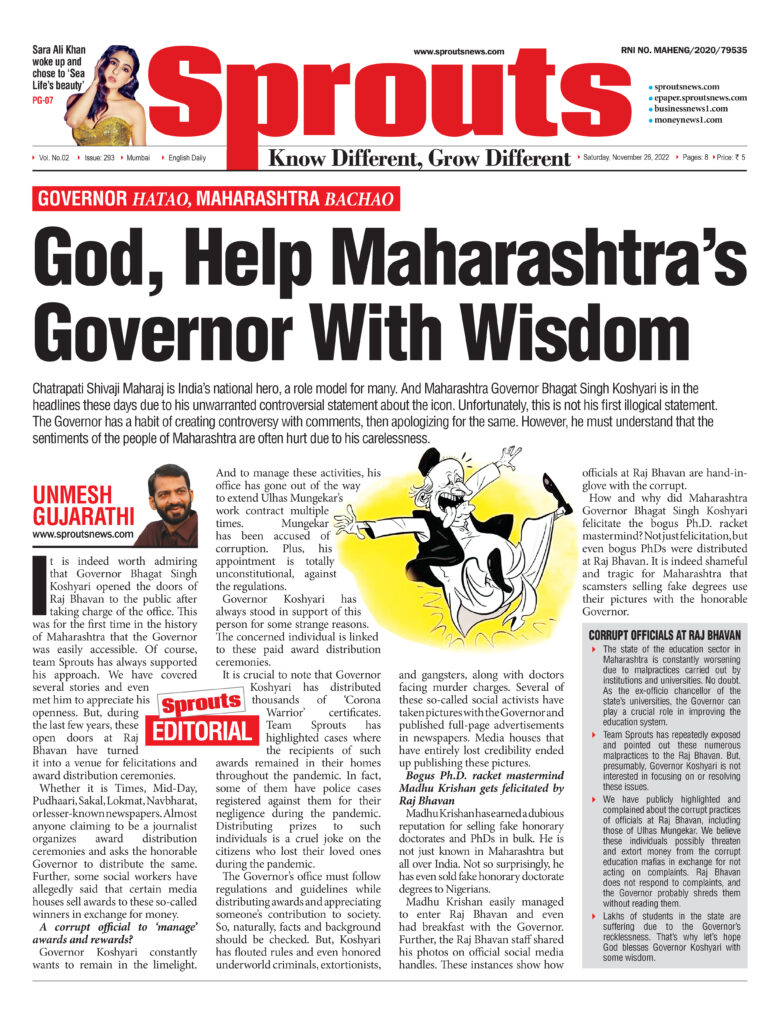 Unmesh Gujarathi
Sprouts Editorial
Chatrapati Shivaji Maharaj is India's national hero, a role model for many. And Maharashtra Governor Bhagat Singh Koshyari is in the headlines these days due to his unwarranted controversial statement about the icon. Unfortunately, this is not his first illogical statement. The Governor has a habit of creating controversy with comments, then apologizing for the same. However, he must understand that the sentiments of the people of Maharashtra are often hurt due to his carelessness.
It is indeed worth admiring that Governor Bhagat Singh Koshyari opened the doors of Raj Bhavan to the public after taking charge of the office. This was for the first time in the history of Maharashtra that the Governor was easily accessible. Of course, team Sprouts has always supported his approach. We have covered several stories and even met him to appreciate his openness. But, during the last few years, these open doors at Raj Bhavan have turned it into a venue for felicitations and award distribution ceremonies.
Whether it is Times, Mid-Day, Pudhaari, Sakal, Lokmat, Navbharat, or lesser-known newspapers. Almost anyone claiming to be a journalist organizes award distribution ceremonies and asks the honorable Governor to distribute the same. Further, some social workers have allegedly said that certain media houses sell awards to these so-called winners in exchange for money.
A corrupt official to 'manage' awards and rewards?
Governor Koshyari constantly wants to remain in the limelight. And to manage these activities, his office has gone out of the way to extend Ulhas Mungekar's work contract multiple times. Mungekar has been accused of corruption. Plus, his appointment is totally unconstitutional, against the regulations.
Governor Koshyari has always stood in support of this person for some strange reasons. The concerned individual is linked to these paid award distribution ceremonies.
It is crucial to note that Governor Koshyari has distributed thousands of 'Corona Warrior' certificates. Team Sprouts has highlighted cases where the recipients of such awards remained in their homes throughout the pandemic. In fact, some of them have police cases registered against them for their negligence during the pandemic. Distributing prizes to such individuals is a cruel joke on the citizens who lost their loved ones during the pandemic.
The Governor's office must follow regulations and guidelines while distributing awards and appreciating someone's contribution to society. So, naturally, facts and background should be checked. But, Koshyari has flouted rules and even honored underworld criminals, extortionists, and gangsters, along with doctors facing murder charges. Several of these so-called social activists have taken pictures with the Governor and published full-page advertisements in newspapers. Media houses that have entirely lost credibility ended up publishing these pictures.
Bogus Ph.D. racket mastermind Madhu Krishan gets felicitated by Raj Bhavan
Madhu Krishan has earned a dubious reputation for selling fake honorary doctorates and PhDs in bulk. He is not just known in Maharashtra but all over India. Not so surprisingly, he has even sold fake honorary doctorate degrees to Nigerians.
Madhu Krishan easily managed to enter Raj Bhavan and even had breakfast with the Governor. Further, the Raj Bhavan staff shared his photos on official social media handles. These instances show how officials at Raj Bhavan are hand-in-glove with the corrupt.
How and why did Maharashtra Governor Bhagat Singh Koshyari felicitate the bogus Ph.D. racket mastermind? Not just felicitation, but even bogus PhDs were distributed at Raj Bhavan. It is indeed shameful and tragic for Maharashtra that scamsters selling fake degrees use their pictures with the honorable Governor.
Corrupt officials at Raj Bhavan
The state of the education sector in Maharashtra is constantly worsening due to malpractices carried out by institutions and universities. No doubt. As the ex-officio chancellor of the state's universities, the Governor can play a crucial role in improving the education system.
Team Sprouts has repeatedly exposed and pointed out these numerous malpractices to the Raj Bhavan. But, presumably, Governor Koshyari is not interested in focusing on or resolving these issues.
We have publicly highlighted and complained about the corrupt practices of officials at Raj Bhavan, including those of Ulhas Mungekar. We believe these individuals possibly threaten and extort money from the corrupt education mafias in exchange for not acting on complaints. Raj Bhavan does not respond to complaints, and the Governor probably shreds them without reading them.
Lakhs of students in the state are suffering due to the Governor's recklessness. That's why let's hope God blesses Governor Koshyari with some wisdom.
---