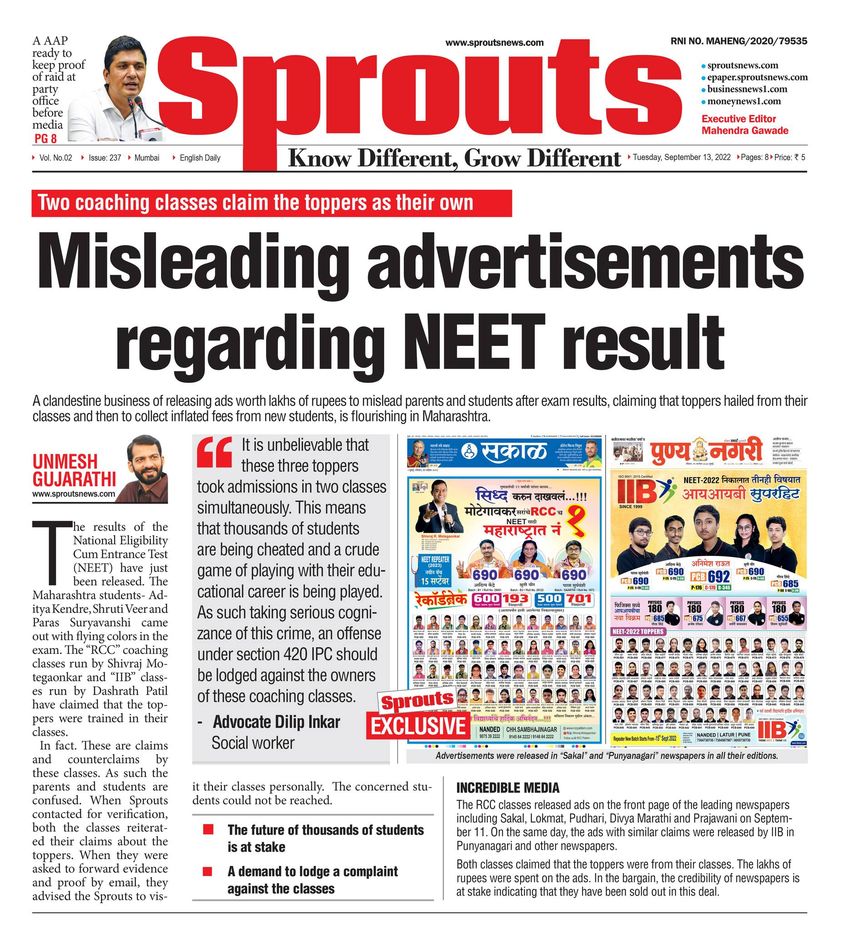 A clandestine business of releasing ads worth lakhs of rupees to mislead parents and students after exam results, claiming that toppers hailed from their classes and then to collect inflated fees from new students is flourishing in Maharashtra.
The results of the National Eligibility Cum Entrance Test (NEET) have just been released. The Maharashtra students- Aditya Kendre, Shruti Veer and Paras Suryavanshi came out with flying colors in the exam. The "RCC" coaching classes run by Shivraj Motegaonkar and "IIB" classes run by Dashrath Patil have claimed that the toppers were trained in their classes.
In fact. These are claims and counterclaims by these classes. As such the parents and students are confused. When Sprouts contacted for verification, both the classes reiterated their claims about the toppers. When they were asked to forward evidence and proof by email, they advised the Sprouts to visit their classes personally. The concerned students could not be reached.
Incredible media
The RCC classes released ads on the front page of the leading newspapers including Sakal, Lokmat, Pudhari, Divya Marathi and Prajawani on September 11. On the same day, the ads with similar claims were released by IIB in Punyanagari and other newspapers.
Both classes claimed that the toppers were from their classes. The lakhs of rupees were spent on the ads. In the bargain, the credibility of newspapers is at stake indicating that they have been sold out in this deal.
"It is unbelievable that these three toppers took admissions in two classes simultaneously. This means that thousands of students are being cheated and a crude game of playing with their educational career is being played. As such taking serious cognizance of this crime, an offense under section 420 IPC should be lodged against the owners of these coaching the classes."
Advocate Dilip Inkar
Social worker
---