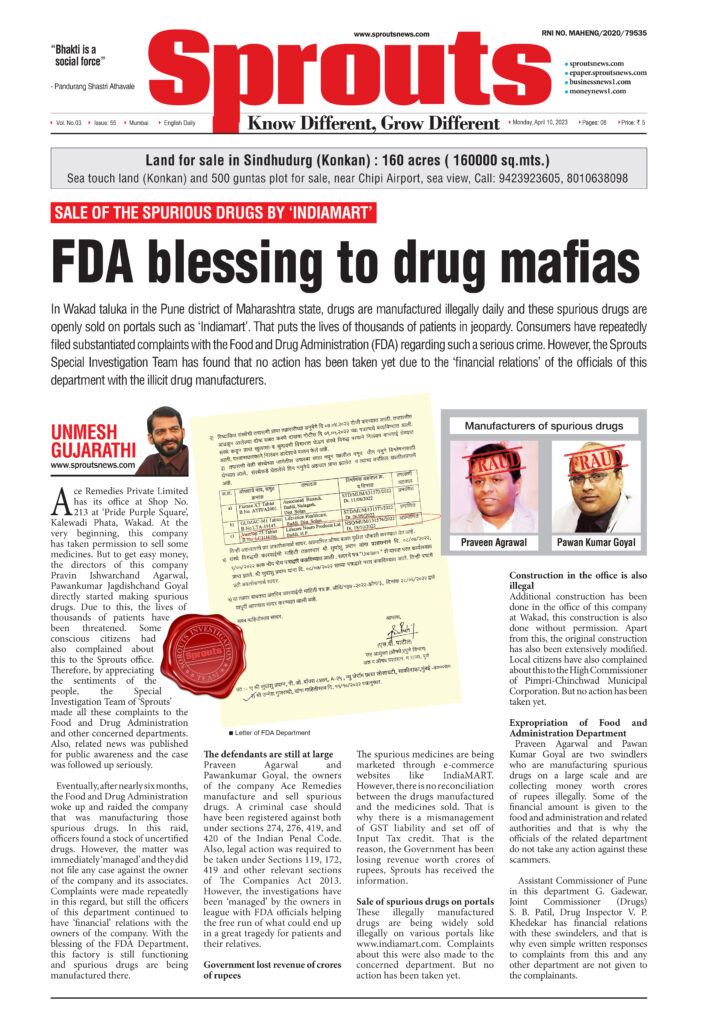 Sale of the spurious drugs by 'Indiamart'
Unmesh Gujarathi
Sprouts Exclusive
In Wakad taluka in the Pune district of Maharashtra state, drugs are manufactured illegally daily and these spurious drugs are openly sold on portals such as 'Indiamart'. That puts the lives of thousands of patients in jeopardy.
Consumers have repeatedly filed substantiated complaints with the Food and Drug Administration (FDA) regarding such a serious crime. However, the Sprouts Special Investigation Team has found that no action has been taken yet due to the 'financial relations' of the officials of this department with the illicit drug manufacturers.
Ace Remedies Private Limited has its office at Shop No. 213 at 'Pride Purple Square', Kalewadi Phata, Wakad. At the very beginning, this company has taken permission to sell some medicines. But to get easy money, the directors of this company Pravin Ishwarchand Agarwal, Pawankumar Jagdishchand Goyal directly started making spurious drugs.
Due to this, the lives of thousands of patients have been threatened. Some conscious citizens had also complained about this to the Sprouts office. Therefore, by appreciating the sentiments of the people, the Special Investigation Team of 'Sprouts' made all these complaints to the Food and Drug Administration and other concerned departments. Also, related news was published for public awareness and the case was followed up seriously.
Eventually, after nearly six months, the Food and Drug Administration woke up and raided the company that was manufacturing those spurious drugs. In this raid, officers found a stock of uncertified drugs. However, the matter was immediately 'managed' and they did not file any case against the owner of the company and its associates.
Complaints were made repeatedly in this regard, but still the officers of this department continued to have 'financial' relations with the owners of the company. With the blessing of the FDA Department, this factory is still functioning and spurious drugs are being manufactured there.
The defendants are still at large
Praveen Agarwal and Pawankumar Goyal, the owners of the company Ace Remedies manufacture and sell spurious drugs. A criminal case should have been registered against both under sections 274, 276, 419, and 420 of the Indian Penal Code. Also, legal action was required to be taken under Sections 119, 172, 419 and other relevant sections of The Companies Act 2013. However, the investigations have been 'managed' by the owners in league with FDA officials helping the free run of what could end up in a great tragedy for patients and their relatives.
Government lost revenue of crores of rupees
The spurious medicines are being marketed through e-commerce websites like IndiaMART. However, there is no reconciliation between the drugs manufactured and the medicines sold. That is why there is a mismanagement of GST liability and set off of Input Tax credit. That is the reason, the Government has been losing revenue worth crores of rupees, Sprouts has received the information.
Sale of spurious drugs on portals
These illegally manufactured drugs are being widely sold illegally on various portals like www.indiamart.com. Complaints about this were also made to the concerned department. But no action has been taken yet.
Construction in the office is also illegal
Additional construction has been done in the office of this company at Wakad, this construction is also done without permission. Apart from this, the original construction has also been extensively modified. Local citizens have also complained about this to the High Commissioner of Pimpri-Chinchwad Municipal Corporation. But no action has been taken yet.
Expropriation of Food and Administration Department
Praveen Agarwal and Pawan Kumar Goyal are two swindlers who are manufacturing spurious drugs on a large scale and are collecting money worth crores of rupees illegally. Some of the financial amount is given to the food and administration and related authorities and that is why the officials of the related department do not take any action against these scammers.
Assistant Commissioner of Pune in this department G. Gadewar, Joint Commissioner (Drugs) S. B. Patil, Drug Inspector V. P. Khedekar has financial relations with these swindelers, and that is why even simple written responses to complaints from this and any other department are not given to the complainants.