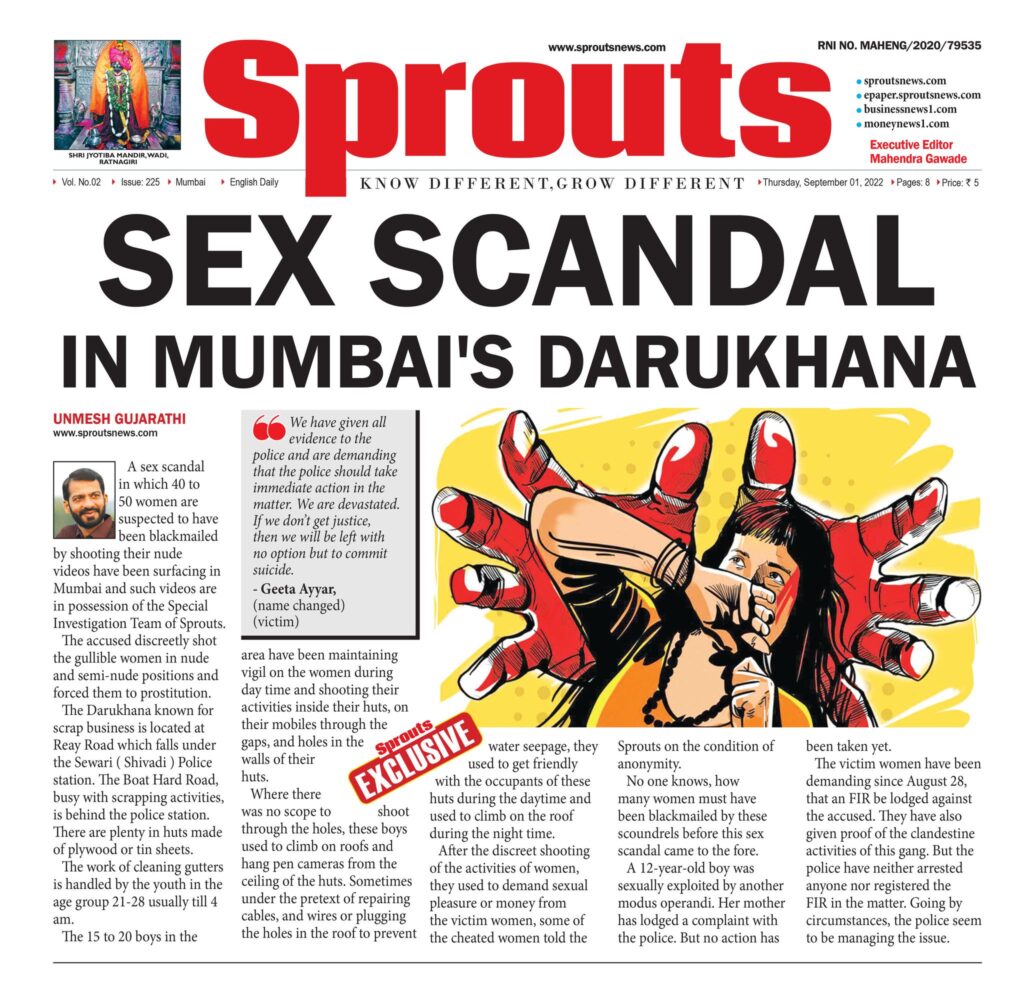 A sex scandal in which 40 to 50 women are suspected to have been blackmailed by shooting their nude videos have been surfacing in Mumbai and such videos are in possession of the Special Investigation Team of Sprouts.
The accused discreetly shot the gullible women in nude positions and forced them to prostitution.
The Darukhana known for scrap business is located at Reay Road which falls under the Sewari ( Shivadi ) Police station. The Boat Hard Road, busy with scrapping activities, is behind the police station. There are plenty in huts made of plywood or tin sheets.
The work of cleaning gutters is handled by the youth in the age group 21-28 usually till 4 am.
The 15 to 20 boys in the area have been maintaining vigil on the women during day time and shooting their activities inside their huts, on their mobiles through the gaps, and holes in the walls of their huts.
Where there was no scope to shoot through the holes, these boys used to climb on roofs and hang pen cameras from the ceiling of the huts. Sometimes under the pretext of repairing cables, and wires or plugging the holes in the roof to prevent water seepage, they used to get friendly with the occupants of these huts during the daytime and used to climb on the roof during the night time.
After the discreet shooting of the activities of women, they used to demand sexual pleasure or money from the victim women, some of the cheated women told the Sprouts on the condition of anonymity.
No one knows, how many women must have been blackmailed by these scoundrels before this sex scandal came to the fore.
A 12-year-old boy was sexually exploited by another modus operandi. Her mother has lodged a complaint with the police. But no action has been taken yet.
The victim women have been demanding since August 28, that an FIR be lodged against the accused. They have also given proof of the clandestine activities of this gang. But the police have neither arrested anyone nor registered the FIR in the matter. Going by circumstances, the police seem to be managing the issue.
" We have given all evidence to the police and are demanding that the police should take immediate action in the matter. We are devastated. If we don't get justice, then we will be left with no option but to commit suicide".
---