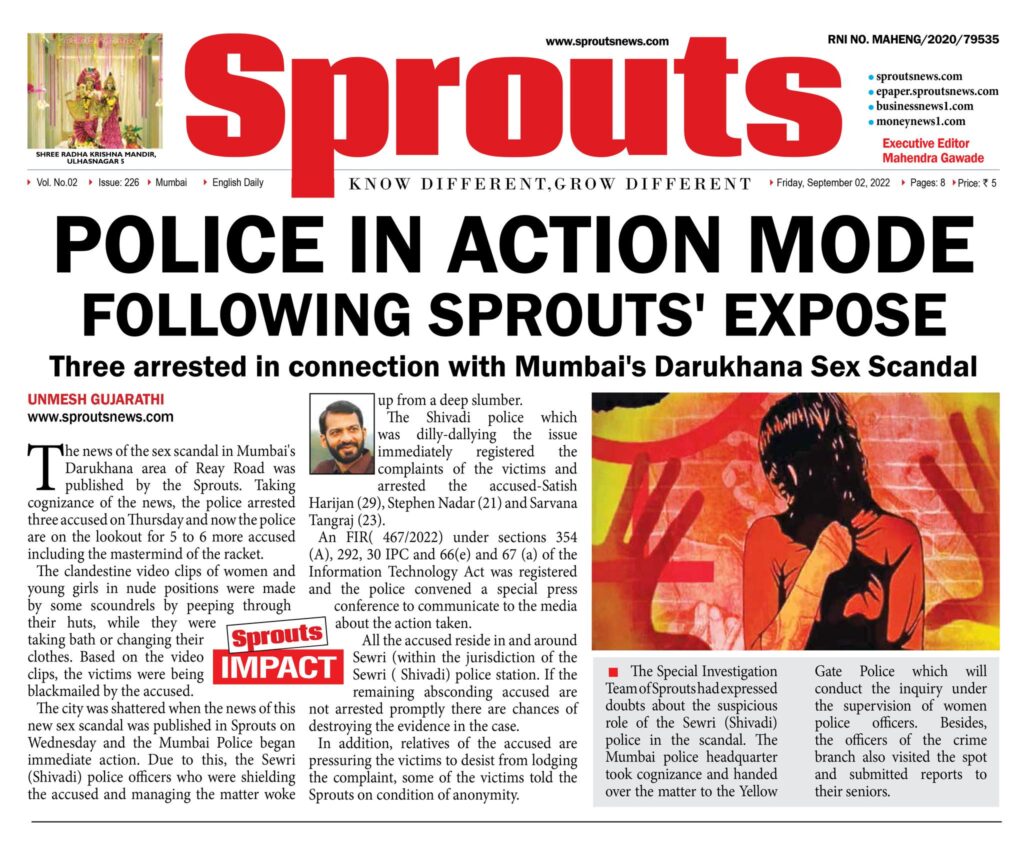 The news of the sex scandal in Mumbai's Darukhana area of Reay Road was published by the Sprouts. Taking cognizance of the news, the police arrested three accused on Thursday and now the police are on the lookout for 5 to 6 more accused including the mastermind of the racket.
The clandestine video clips of women and young girls in nude positions were made by some scoundrels by peeping through their huts, while they were taking bath or changing their clothes. Based on the video clips, the victims were being blackmailed by the accused.
The city was shattered when the news of this new sex scandal was published in Sprouts on Wednesday and the Mumbai Police began immediate action. Due to this, the Sewri (Shivadi ) police officers who were shielding the accused and managing the matter woke up from a deep slumber.
The Shivadi police which was dilly-dallying the issue immediately registered the complaints of the victims and arrested the accused-Satish Harijan (29), Stephen Nadar (21) and Sarvana Tangraj (23).
An FIR( 467/2022) under sections 354 (A), 292, 30 IPC and 66(e) and 67 (a) of the Information Technology Act was registered and the police convened a special press conference to communicate to the media about the action taken.
All the accused reside in and around Sewri (within the jurisdiction of the Sewri ( Shivadi ) police station. If the remaining absconding accused are not arrested promptly there are chances of destroying the evidence in the case.
In addition, relatives of the accused are pressuring the victims to desist from lodging the complaint, some of the victims told the Sprouts on condition of anonymity.
The Special Investigation Team of Sprouts had expressed doubts about the suspicious role of the Sewri ( Shivadi) police in the scandal. The Mumbai police headquarter took cognizance and handed over the matter to the Yellow Gate Police which will conduct the inquiry under the supervision of women police officers.
Besides, the officers of the crime branch also visited the spot and submitted reports to their seniors.
---